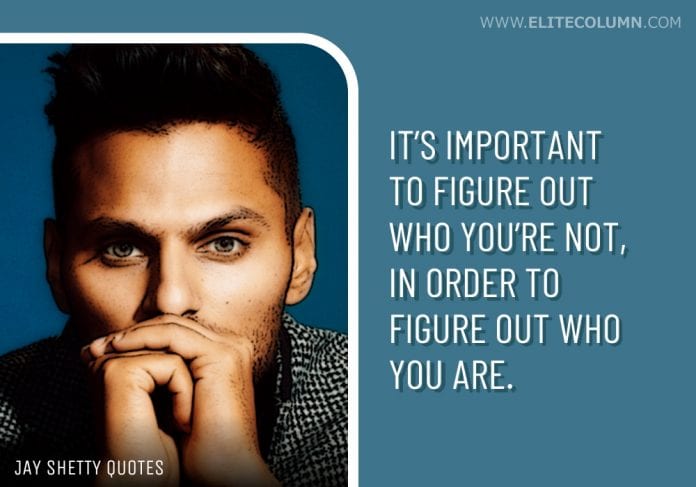 Jay Shetty is a British-born, former monk, & an award-winning digital strategist turned captivating host, storyteller, and viral content creator. After meeting a monk at the age of 18, he sought to redefine personal success. After graduation, he turned down lucrative job offers from prestigious companies, moved to India, and lived as a monk. He traded his suits for robes, shaved his head, slept on the floor, and lived out of a gym locker. Jay Shetty quotes will help your believe in yourself. EliteColumn offers handpicked Jay Shetty quotes.
55 Motivational Jay Shetty Quotes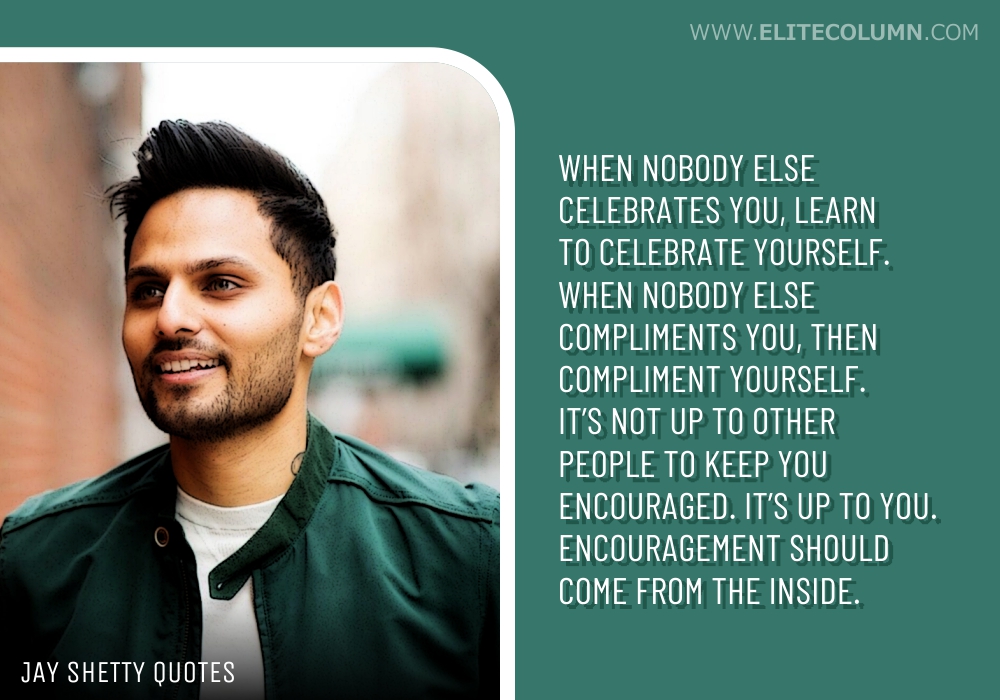 "When nobody else celebrates you, learn to celebrate yourself. When nobody else compliments you, then compliment yourself. It's not up to other people to keep you encouraged. It's up to you. Encouragement should come from the inside." – Jay Shetty
2. "The slowest road to success is when you're comparing yourself to others." – Jay Shetty
3. "The challenges we all want to be with someone who makes us happy, when what we need to do is be some who makes us happy." – Jay Shetty
4. "The more you try and keep up with others' opinions, the more you'll fall behind." – Jay Shetty
5. "Everything will happen for you all of a sudden and you will be thankful you didn't give up. Blessings are coming." – Jay Shetty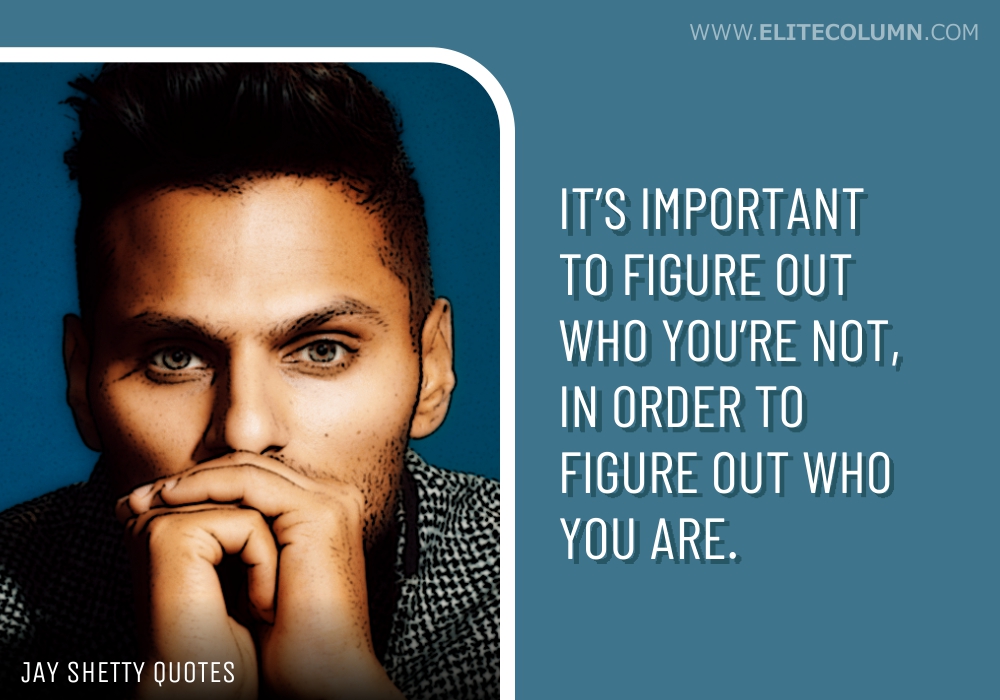 6. "It's important to figure out who you're not, in order to figure out who you are." – Jay Shetty
7. "Your new life will cost you your old one." – Jay Shetty
8. "Everything makes sense, even if you can't make sense of it right now. Don't judge the moment." – Jay Shetty
9. "I don't hate you, but I am done investing my time in you." – Jay Shetty
10. "What you want exists. Don't settle until you get it." – Jay Shetty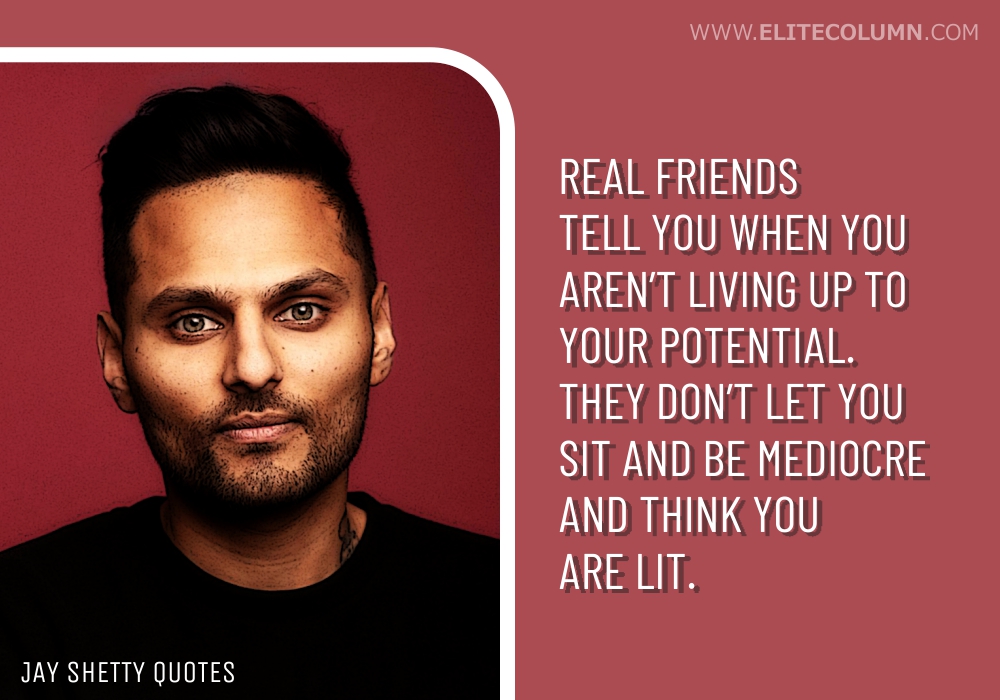 11. "Real friends tell you when you aren't living up to your potential. They don't let you sit and be mediocre and think you are lit." – Jay Shetty
12. "You are still young, and you aren't supposed to have your whole life figured out yet. Don't stress. Everything will work out." – Jay Shetty
13. "Money is only a tool. It will take you wherever you wish, but make sure it does not replace you as the driver." – Jay Shetty
14. "If we never learn to be alone, we will always feel lonely." – Jay Shetty
15. "We live for the weekend but then end up feeling weak." – Jay Shetty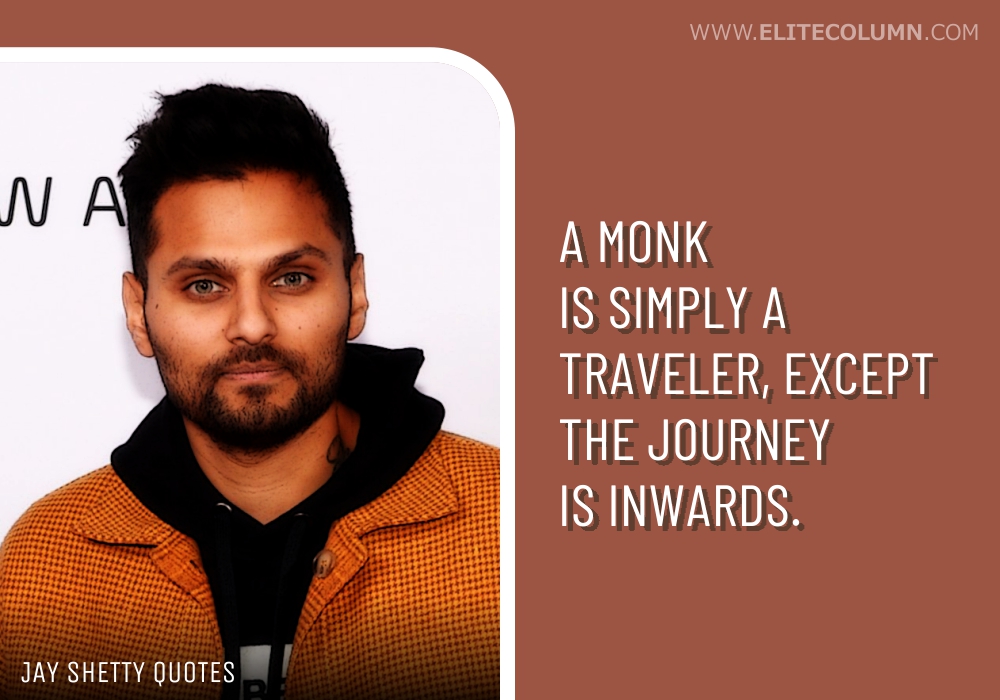 16. "A monk is simply a traveler, except the journey is inwards." – Jay Shetty
17. "Whatever is taken for granted, will eventually be taken away." – Jay Shetty
18. "Don't worry about rejections. All you need is one person to say yes." – Jay Shetty
19. "You cannot transform that which you do not accept." – Jay Shetty
20. "When you learn a little, you feel you know a lot. But when you learn a lot, you realize you know very little." – Jay Shetty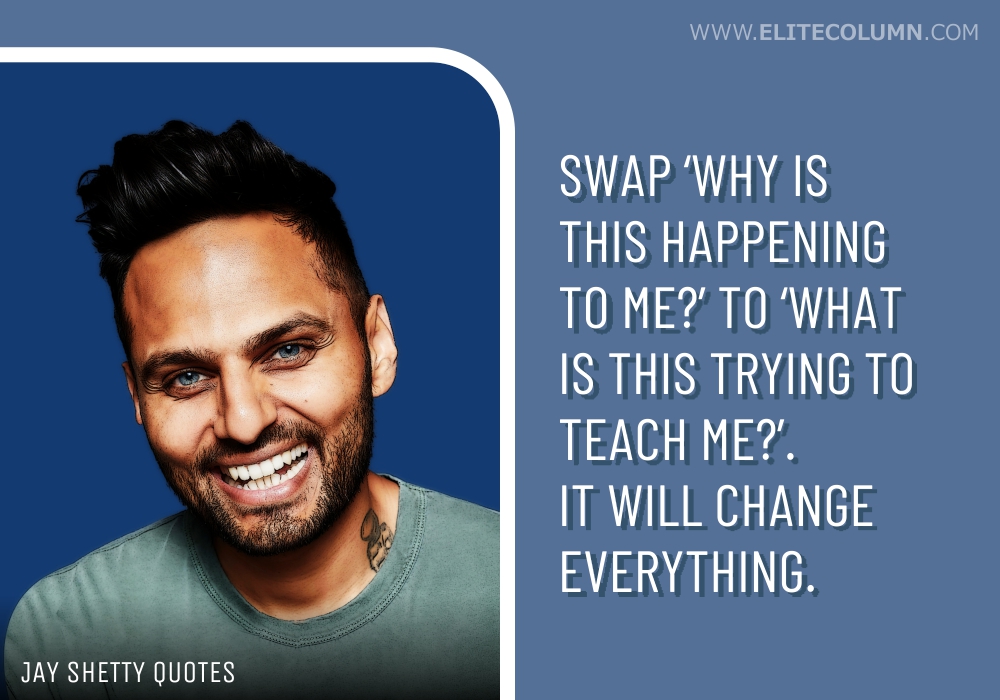 21. "Swap 'Why is this happening to me?' to 'What is this trying to teach me?'. It will change everything." – Jay Shetty
22. "The best lesson I have learned in life came from the worst feeling I ever felt in life." – Jay Shetty
23. "Being happy for someone else's success makes you happier. Go try it and stop being salty." – Jay Shetty
24. "Think about what you can do right now, not what you wish you had done before." – Jay Shetty
25. "Your identity should be made by what you think you should be." – Jay Shetty
See also:
Swami Vivekananda Quotes | Sergey Brin Quotes | Elon Musk Quotes | Chris Gardner Quotes | John Nash Quotes | Stephen Hawking Quotes | Warren Buffett Quotes | Jack Ma Quotes | Jeff Bezos Quotes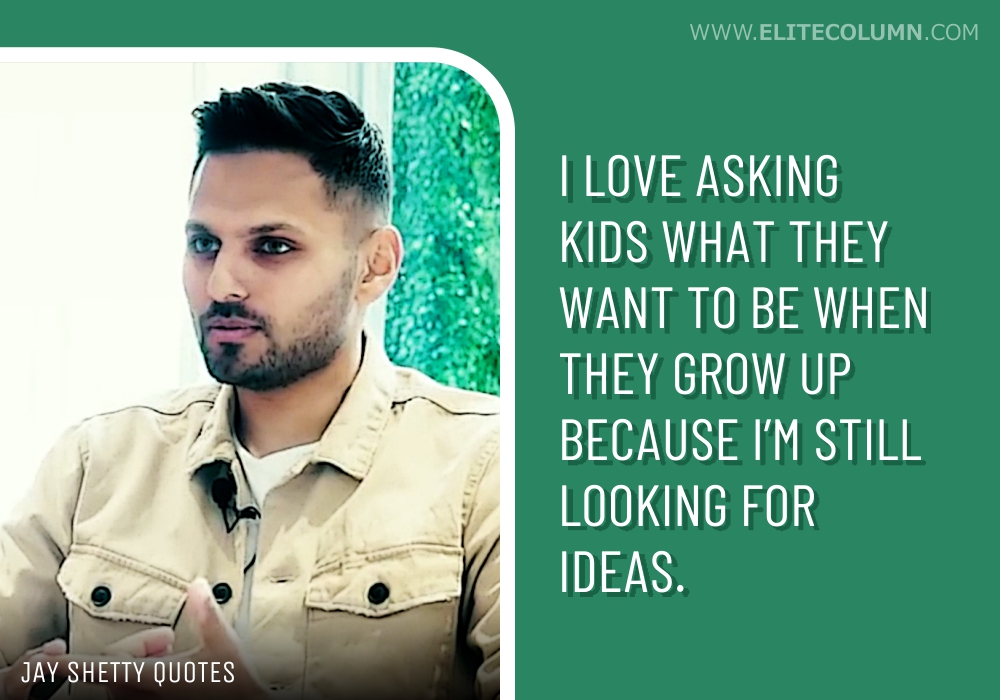 26. "I love asking kids what they want to be when they grow up because I'm still looking for ideas." – Jay Shetty
27. "Success comes from gaining, happiness comes from giving." – Jay Shetty
28. "Don't let the world change your smile, use your smile to change the world." – Jay Shetty
29. "When you want to 'put somebody in their place', put yourself in their place first." – Jay Shetty
30. "A mentor is someone who sees what you may miss." – Jay Shetty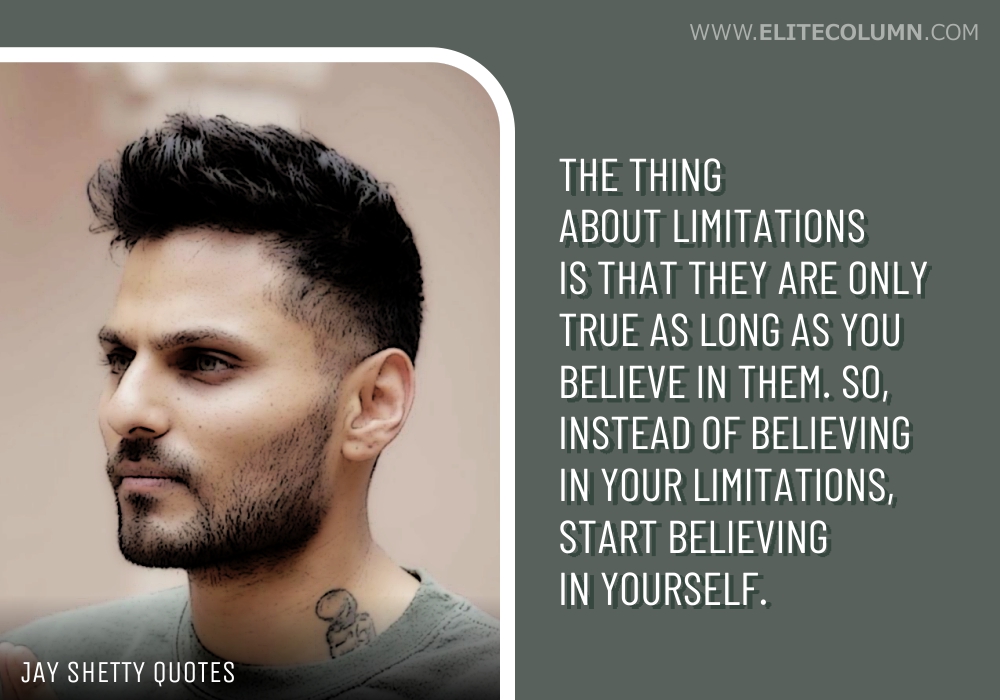 31. "The thing about limitations is that they are only true as long as you believe in them. So, instead of believing in your limitations, start believing in yourself." – Jay Shetty
32. "Stay around people who look more like your future than your past." – Jay Shetty
33. "A best friend is someone who loves you when you forget to love yourself." – Jay Shetty
34. "It's not about how slow you go, just as long as you don't stop." – Jay Shetty
35. "When you're good at something, you'll tell everyone when you're great at something, they'll tell you." – Jay Shetty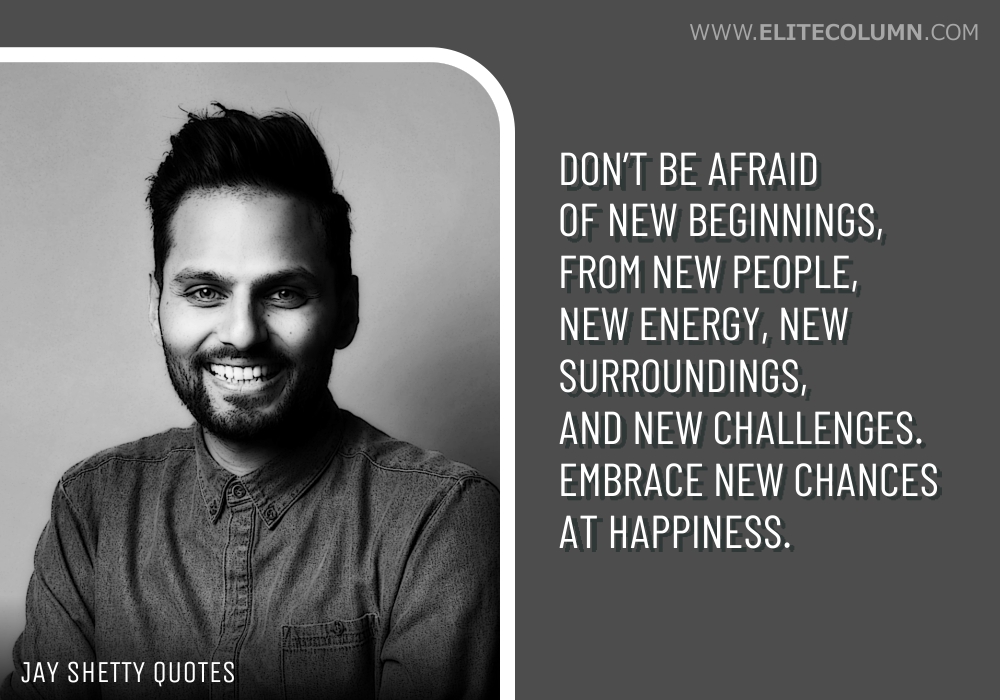 36. "Don't be afraid of new beginnings, from new people, new energy, new surroundings, and new challenges. Embrace new chances at happiness." – Jay Shetty
37. "The biggest room in the world is the room for self-improvement." – Jay Shetty
38. "To realize the value of a millisecond, ask the person who just came 2nd at the Olympics." – Jay Shetty
39. "Turn your cant's into cans and your dreams into plans." – Jay Shetty
40. "The same technology that brings us close to those far away, takes us far away from the people." – Jay Shetty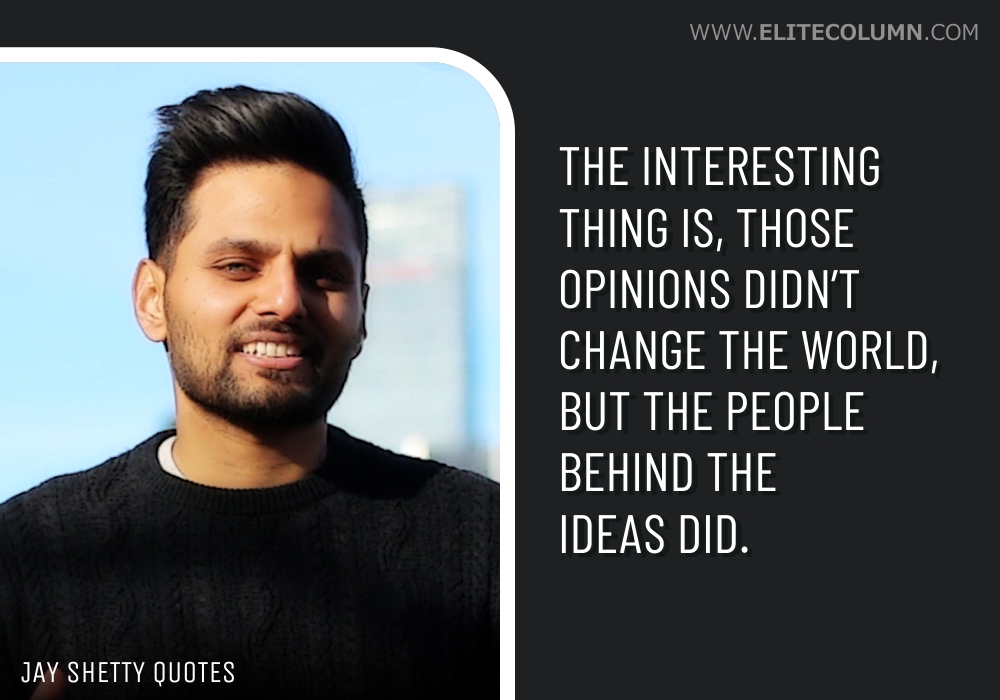 41. "The interesting thing is, those opinions didn't change the world, but the people behind the ideas did." – Jay Shetty
42. "The days you don't want to are the days you really have to if you want to reach your goal." – Jay Shetty
43. "You don't know what you need in your life until you figure out who you are." – Jay Shetty
44. "Go the extra mile, it's never crowded." – Jay Shetty
45. "Never judge anyone, because you never know how their life is and what they go through." – Jay Shetty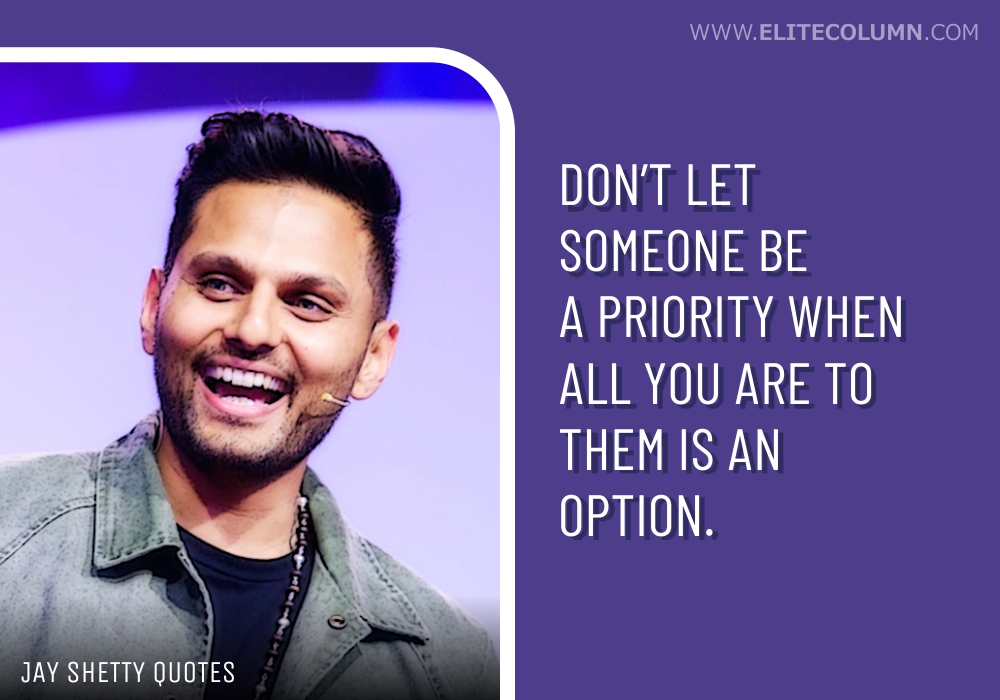 46. "Don't let someone be a priority when all you are to them is an option." – Jay Shetty
47. "Yet in a world with so much information, we're somehow still missing the wisdom of life." – Jay Shetty
48. "We complain that nothing feels real anymore, but we don't give anything time to become real." – Jay Shetty
49. "We complain nothing has depth, but we don't allow things space to deepen." – Jay Shetty
50. "The most powerful prison is one when you don't even know that you're locked up." – Jay Shetty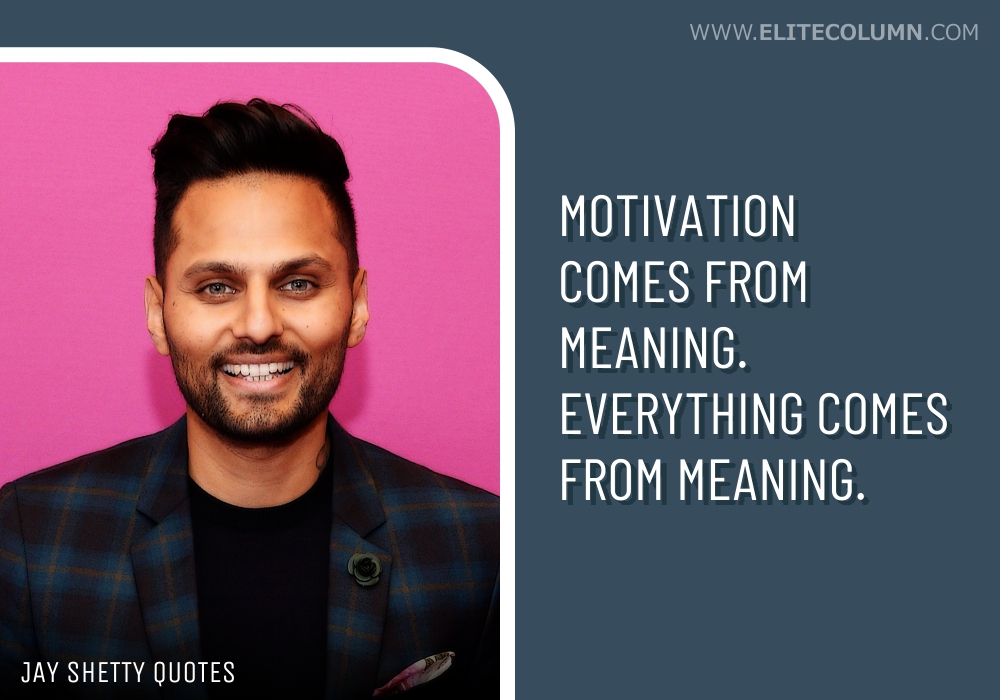 51. "Motivation comes from meaning. Everything comes from meaning." – Jay Shetty
52. "Spend more time with people who make you forget to look at your phone." – Jay Shetty
53. "You can't do the big things if you're always distracted by the small ones." – Jay Shetty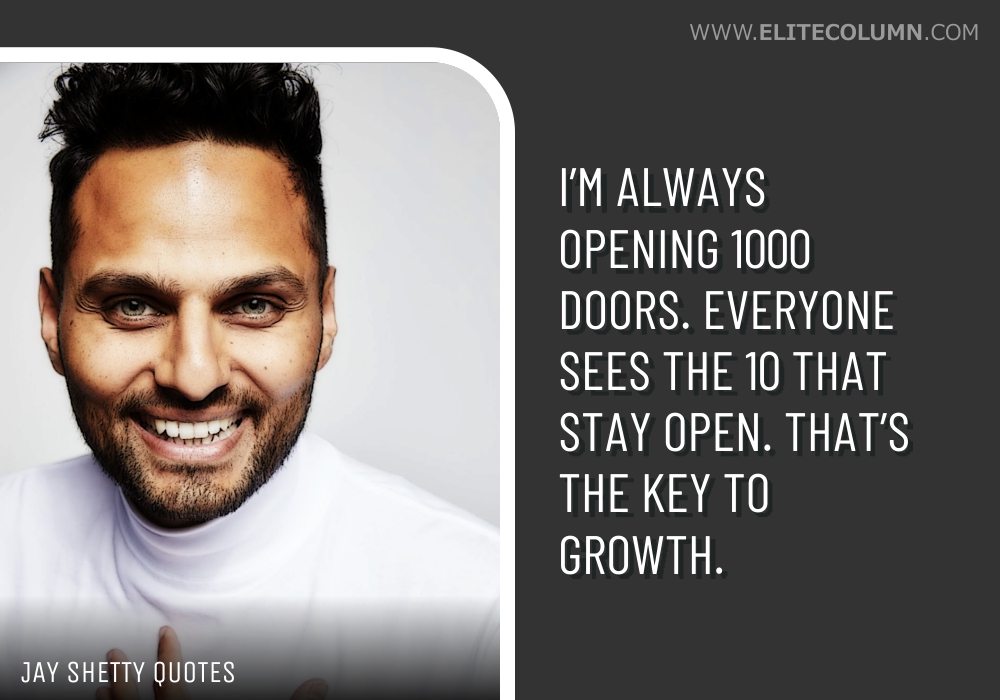 54. "I'm always opening 1000 doors. Everyone sees the 10 that stay open. That's the key to growth." – Jay Shetty
55. "Starve your distractions, feed your focus." – Jay Shetty
Thanks for checking out the best Jay Shetty quotes. Feel free to share the quotes with your friends. Leave a comment below and which are your favorite Jay Shetty quotes ?
See also:
Dave Ramsey Quotes | Daymond John Quotes | Deepak Chopra Quotes | Eric Thomas Quotes | Grant Cardone Quotes | Harv Eker Quotes
You can find us at – Facebook | Instagram | LinkedIn | Pinterest | Twitter