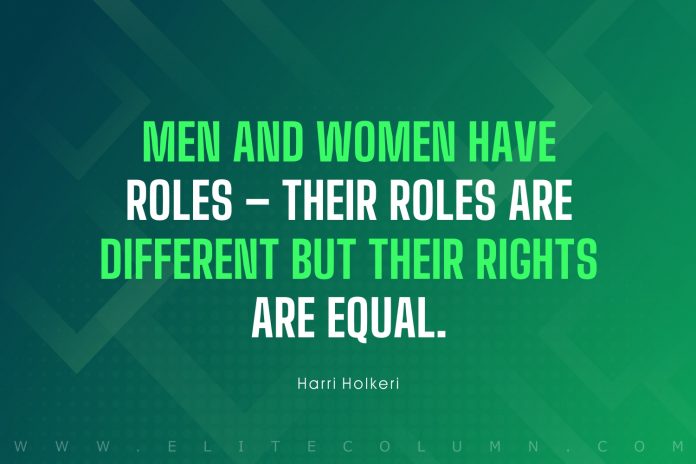 Check out 50 Inspirational Quotes for Women today.
50 Best Inspirational Quotes for Women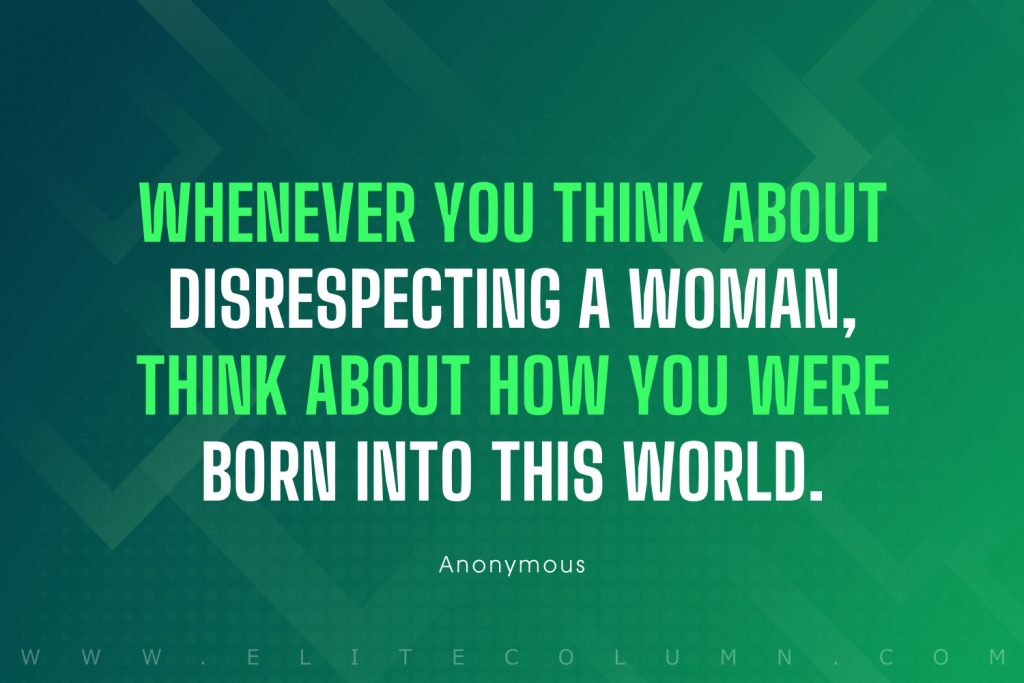 1. "Whenever you think about disrespecting a woman, think about how you were born into this world." – Anonymous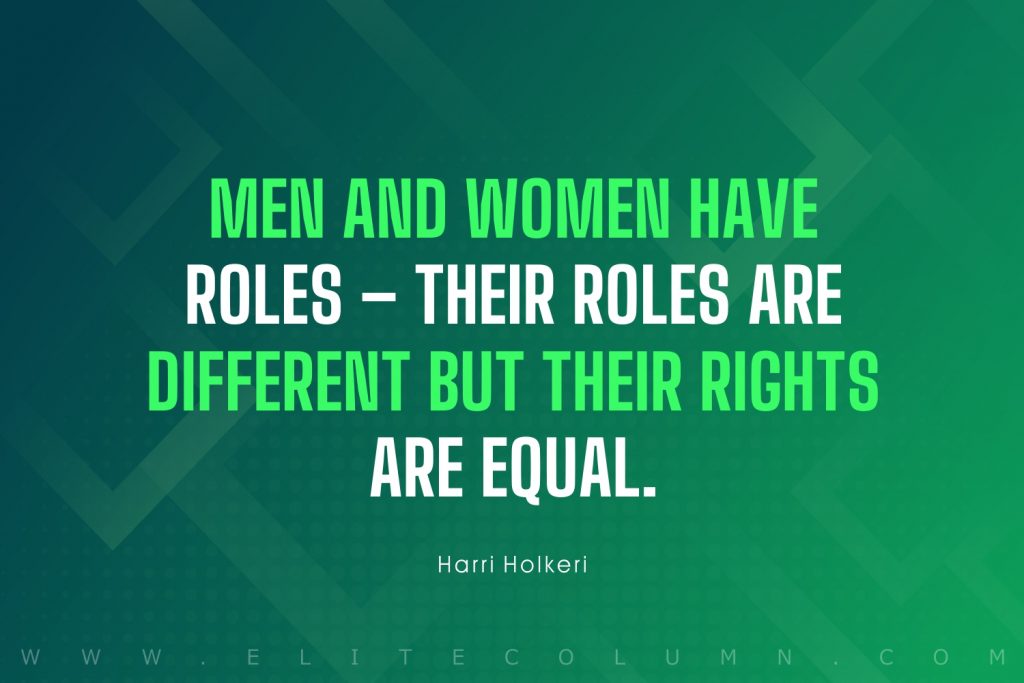 2. "Men and women have roles – their roles are different but their rights are equal." – Harri Holkeri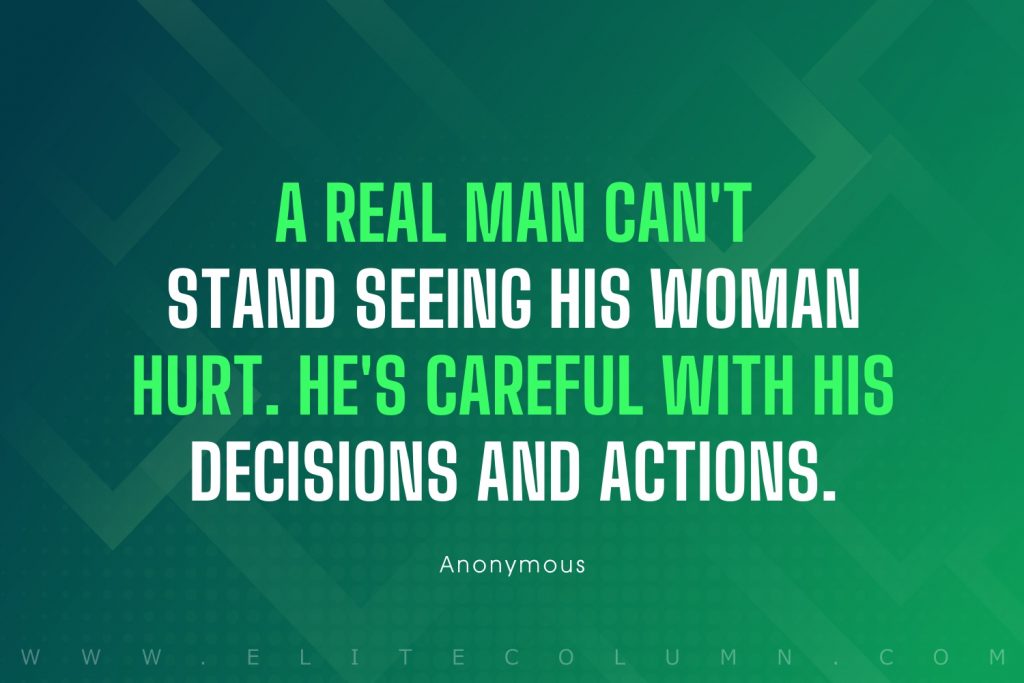 3. "A real man can't stand seeing his woman hurt. He's careful with his decisions and actions." – Anonymous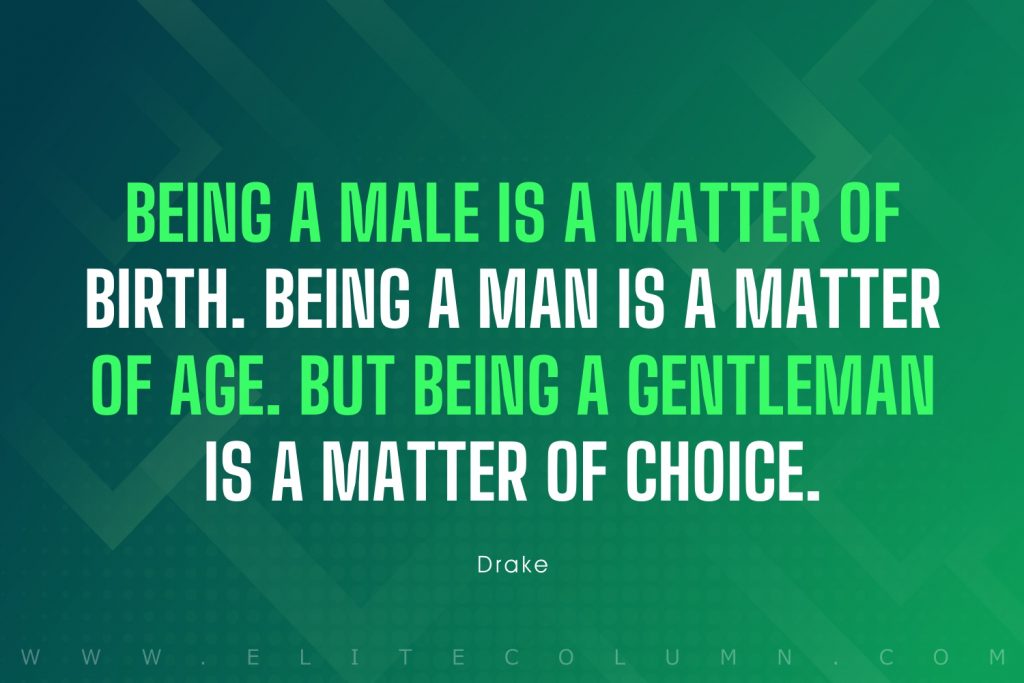 4. "Being a male is a matter of birth. Being a man is a matter of age. But being a gentleman is a matter of choice." – Drake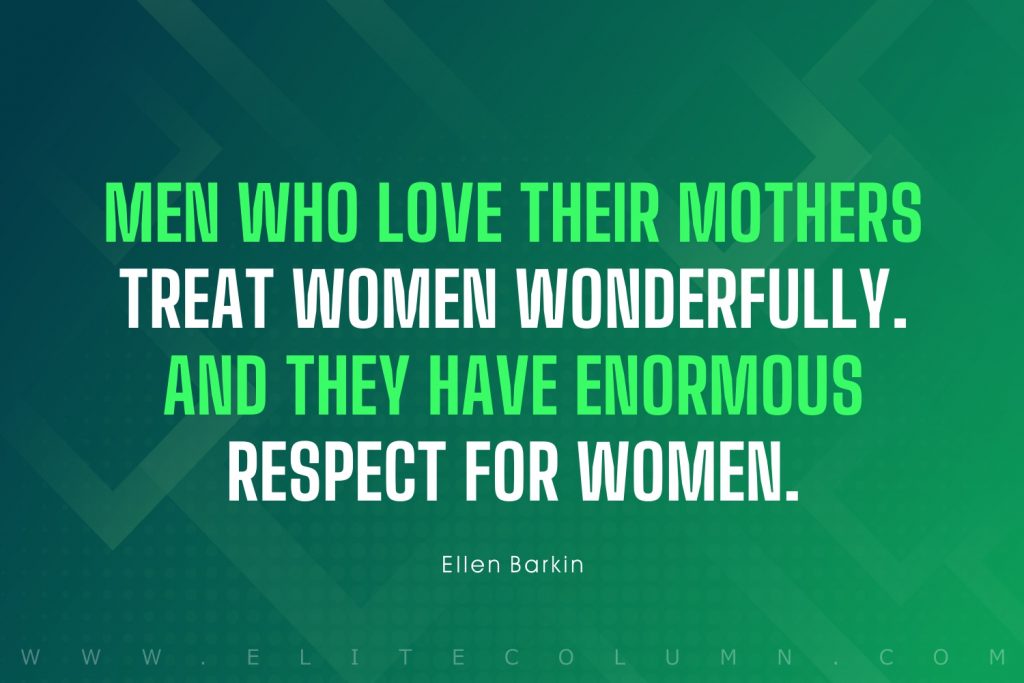 5. "Men who love their mothers treat women wonderfully. And they have enormous respect for women." – Ellen Barkin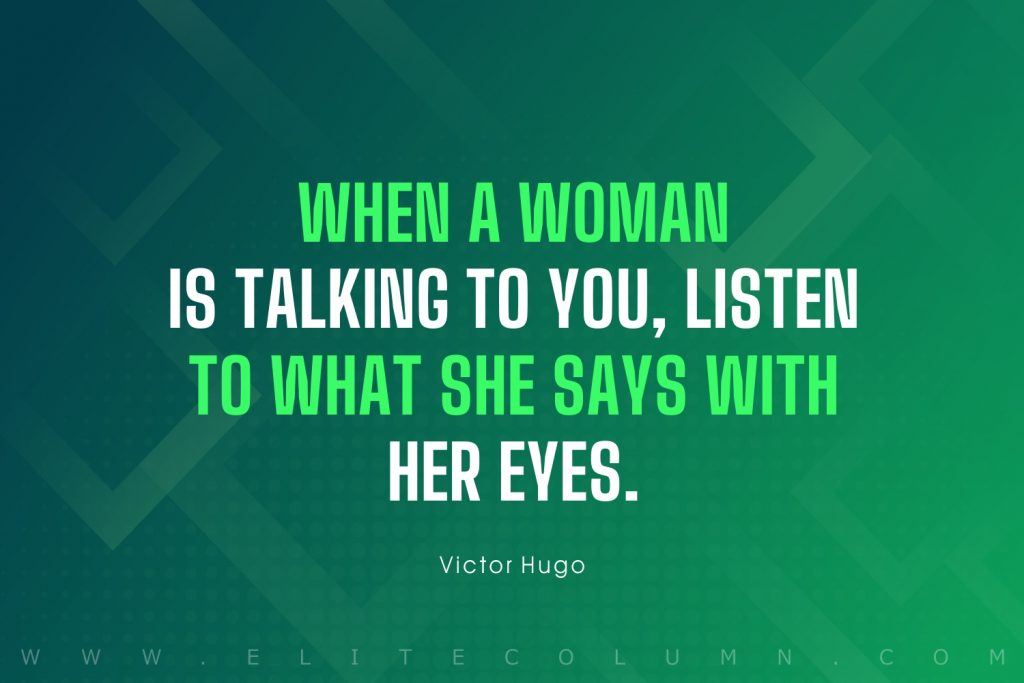 See also:
Healing Quotes | Prayer Quotes | Cousin Quotes | Reading Quotes | Thinking Quotes | Self Respect Quotes | Parenting Quotes | Entrepreneur Quotes | Mind Quotes
6. "When a woman is talking to you, listen to what she says with her eyes." – Victor Hugo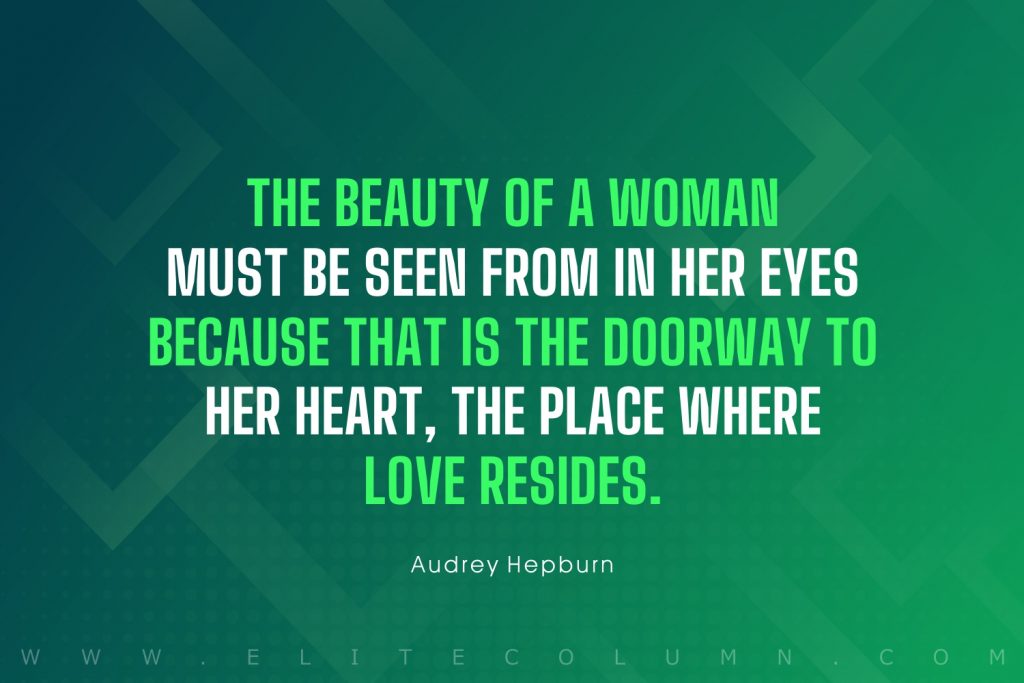 7. "The beauty of a woman must be seen from in her eyes because that is the doorway to her heart, the place where love resides." – Audrey Hepburn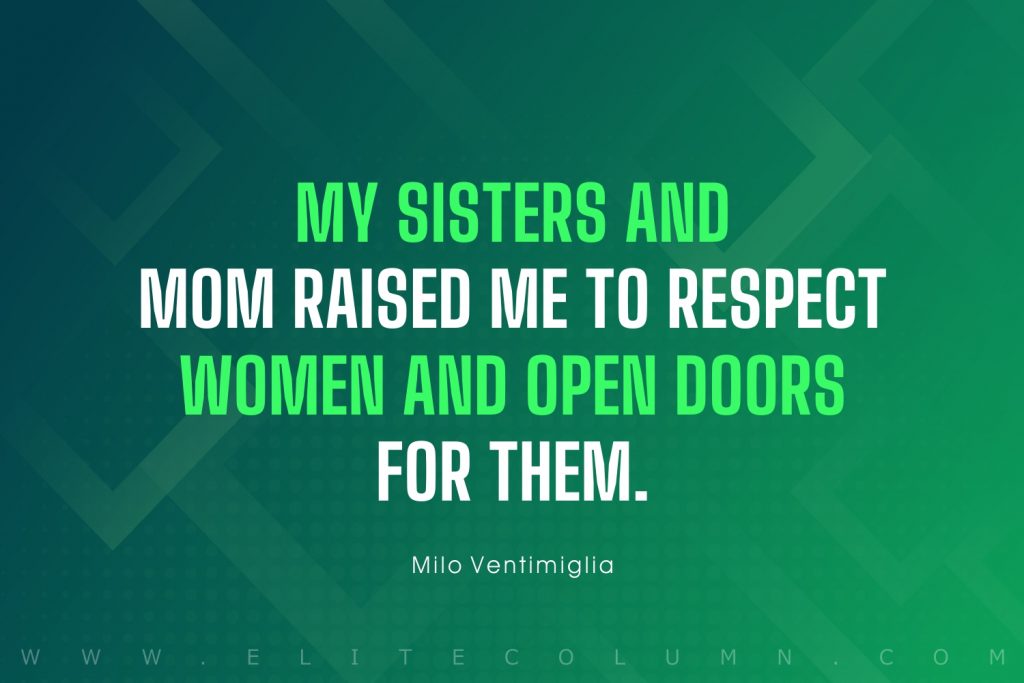 8. "My sisters and mom raised me to respect women and open doors for them." – Milo Ventimiglia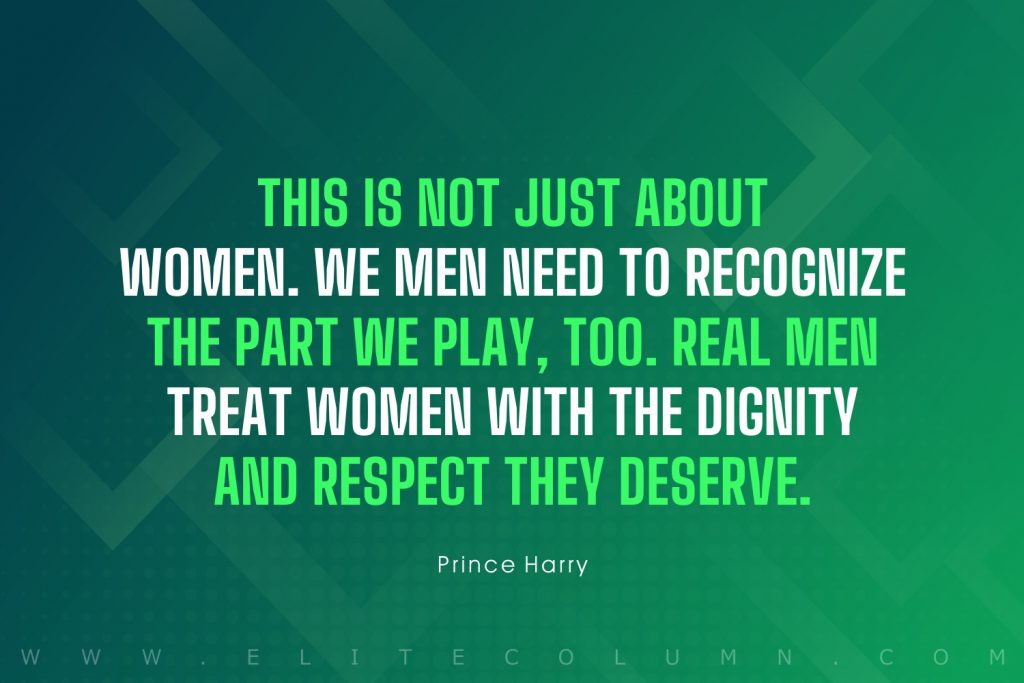 9. "This is not just about women. We men need to recognize the part we play, too. Real men treat women with the dignity and respect they deserve." – Prince Harry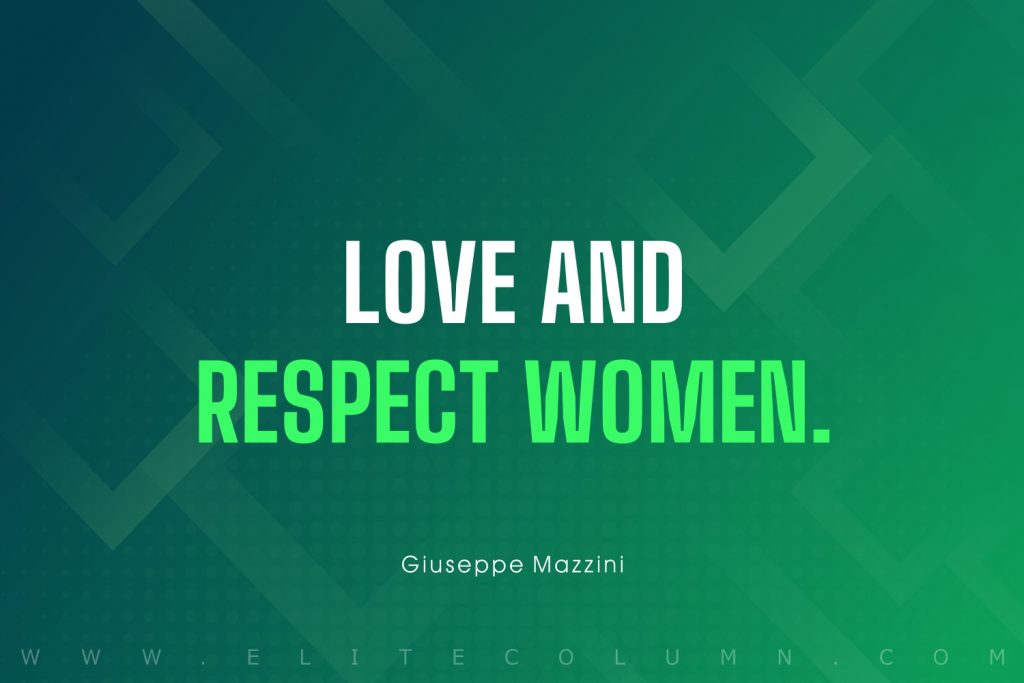 10. "Love and respect women." – Giuseppe Mazzini
11. "When you know your why and have found your purpose, no one can stop you." – Avinash VS
12. "I try to live in a little bit of my own joy and not let people steal it or take it." – Hoda Kotb
13. "If you obey all the rules, you miss all the fun." – Katharine Hepburn
14. "When you're through changing, you're through." – Martha Stewart
15. "Cherish forever what makes you unique, 'cuz you're really a yawn if it goes." – Bette Midler
16. "Whenever you are blue or lonely or stricken by some humiliating thing you did, the cure and the hope is in caring about other people." – Diane Sawyer
17. "I learned compassion from being discriminated against. Everything bad that's ever happened to me has taught me compassion." – Ellen DeGeneres
18. "Many receive advice, only the wise profit from it." – Harper Lee
19. "Done is better than perfect." – Sheryl Sandberg
20. "One of the secrets to staying young is to always do things you don't know how to do, to keep learning." – Ruth Reichl
21. "It took me quite a long time to develop a voice, and now that I have it, I am not going to be silent." – Madeleine Albright
22. "I firmly believe you never should spend your time being the former anything." – Condoleezza Rice
23. "A good compromise is one where everybody makes a contribution." – Angela Merkel
24. "You can't please everyone, and you can't make everyone like you." – Katie Couric
25. "Learn from the mistakes of others. You can't live long enough to make them all yourself." – Eleanor Roosevelt
26. "Life was meant to be lived. Curiosity must be kept alive. One must never, for whatever reason, turn his back on life." – Eleanor Roosevelt
27. "I have stood on a mountain of no's for one yes." – B. Smith
28. "What you do makes a difference, and you have to decide what kind of difference you want to make." – Jane Goodall
29. "If you don't like the road you're walking, start paving another one." – Dolly Parton
30. "The challenge is not to be perfect…it's to be whole." – Jane Fonda
31. "The best thing to hold onto in life is each other." – Audrey Hepburn
32. "Normal is not something to aspire to, it's something to get away from." – Jodie Foster
33. "I am always busy, which is perhaps the chief reason why I am always well." – Elizabeth Cady Stanton
34. "I learned a long time ago that there is something worse than missing the goal, and that's not pulling the trigger." – Mia Hamm
35. "When I'm hungry, I eat. When I'm thirsty, I drink. When I feel like saying something, I say it." – Madonna
36. "I do not try to dance better than anyone else. I only try to dance better than myself." – Arianna Huffington
37. "I'm always perpetually out of my comfort zone." – Tory Burch
38. "If you look at what you have in life, you'll always have more. If you look at what you don't have in life, you'll never have enough." – Oprah Winfrey
39. "People think at the end of the day that a man is the only answer. Actually, a job is better for me." – Princess Diana
40. "No one changes the world who isn't obsessed." – Billie Jean King
41. "You are the one that possesses the keys to your being. You carry the passport to your own happiness." – Diane von Furstenberg
42. "Make the most of yourself by fanning the tiny, inner sparks of possibility into flames of achievement." – Golda Meir
43. "Power's not given to you. You have to take it." – Beyoncé Knowles Carter
44. "I need to listen well so that I hear what is not said." – Thuli Madonsela
45. "Style is a way to say who you are without having to speak." – Rachel Zoe
46. "Hold your head and your standards high even as people or circumstances try to pull you down." – Tory Johnson
47. "No matter how difficult and painful it may be, nothing sounds as good to the soul as the truth." – Martha Beck
48. "It's not the absence of fear, it's overcoming it. Sometimes you've got to blast through and have faith." – Emma Watson
49. "One cannot accomplish anything without fanaticism." – Eva Peron
50. "Owning our story can be hard but not nearly as difficult as spending our lives running from it." – Brené Brown
Thanks for checking out the best Inspirational Quotes for Women. Feel free to share the quotes with your friends. Leave a comment below and which are your favourite Inspirational Quotes for Women ?
See also:
Inspirational Quotes for Teachers | Inspirational Quotes for Girls | Inspirational Quotes for Men | Inspirational Quotes for Children | Inspirational Quotes for Kids | Inspirational Quotes for Students | Inspirational Quotes for Work
You can find us at – Facebook | Instagram | LinkedIn | Pinterest | Twitter