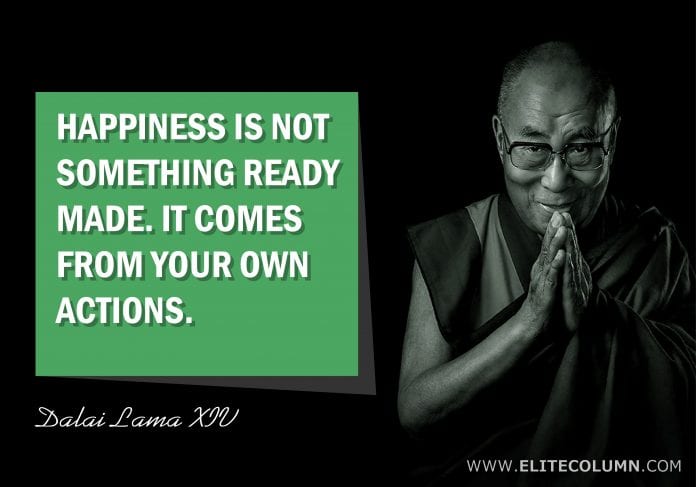 When we think about what makes us happy, we tend to focus on the those things in life that we crave or long to own. These things may be concrete consumables or they may be intangible resources, such as time, inner peace, or true love. Happiness quotes will make your day extra special and EliteColumn brings you best hand-picked happiness quotes to feel good about yourself and be happy.
70 Best Happiness Quotes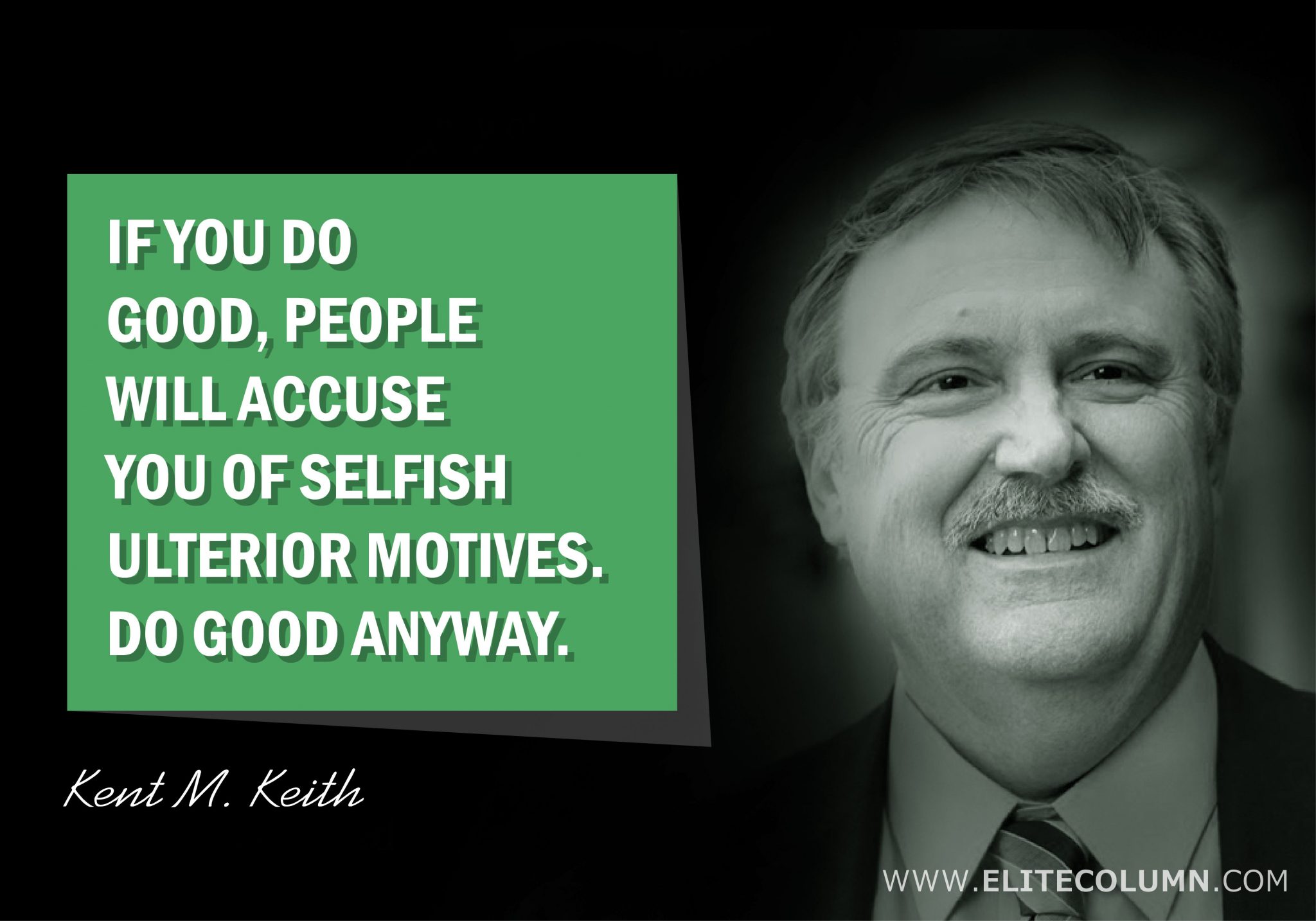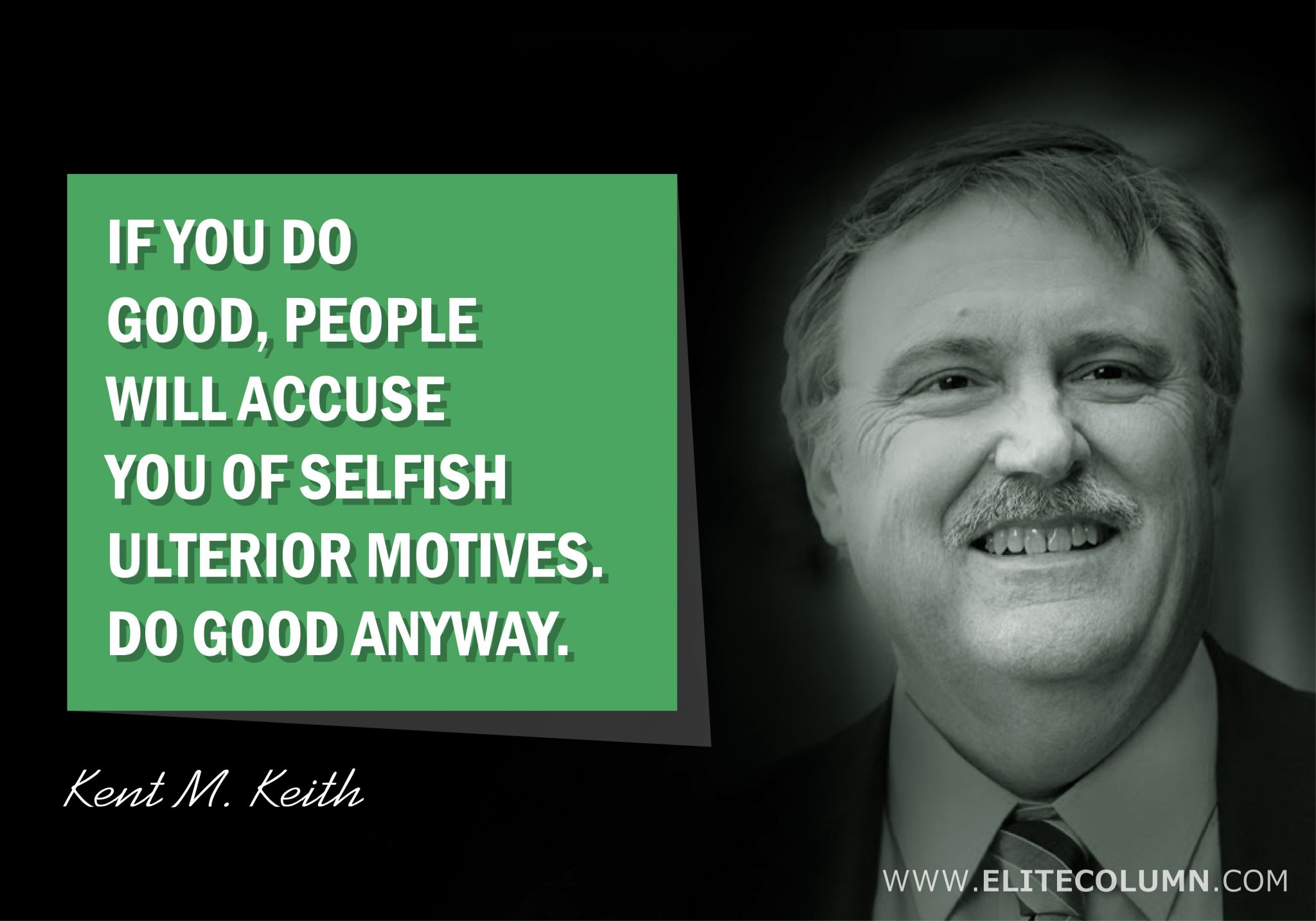 "If you do good, people will accuse you of selfish ulterior motives. Do good anyway." – Kent M. Keith
2. "I'd far rather be happy than right any day." – Douglas Adams
3. "The foolish man seeks happiness in the distance, the wise grows it under his feet." – James Oppenheim
4. "Happiness is nothing more than good health and a bad memory." – Albert Schweitzer
5. "The first recipe for happiness is: avoid too lengthy meditation on the past." – Andre Maurois
6. "Let us be grateful to the people who make us happy; they are the charming gardeners who make our souls blossom." – Marcel Proust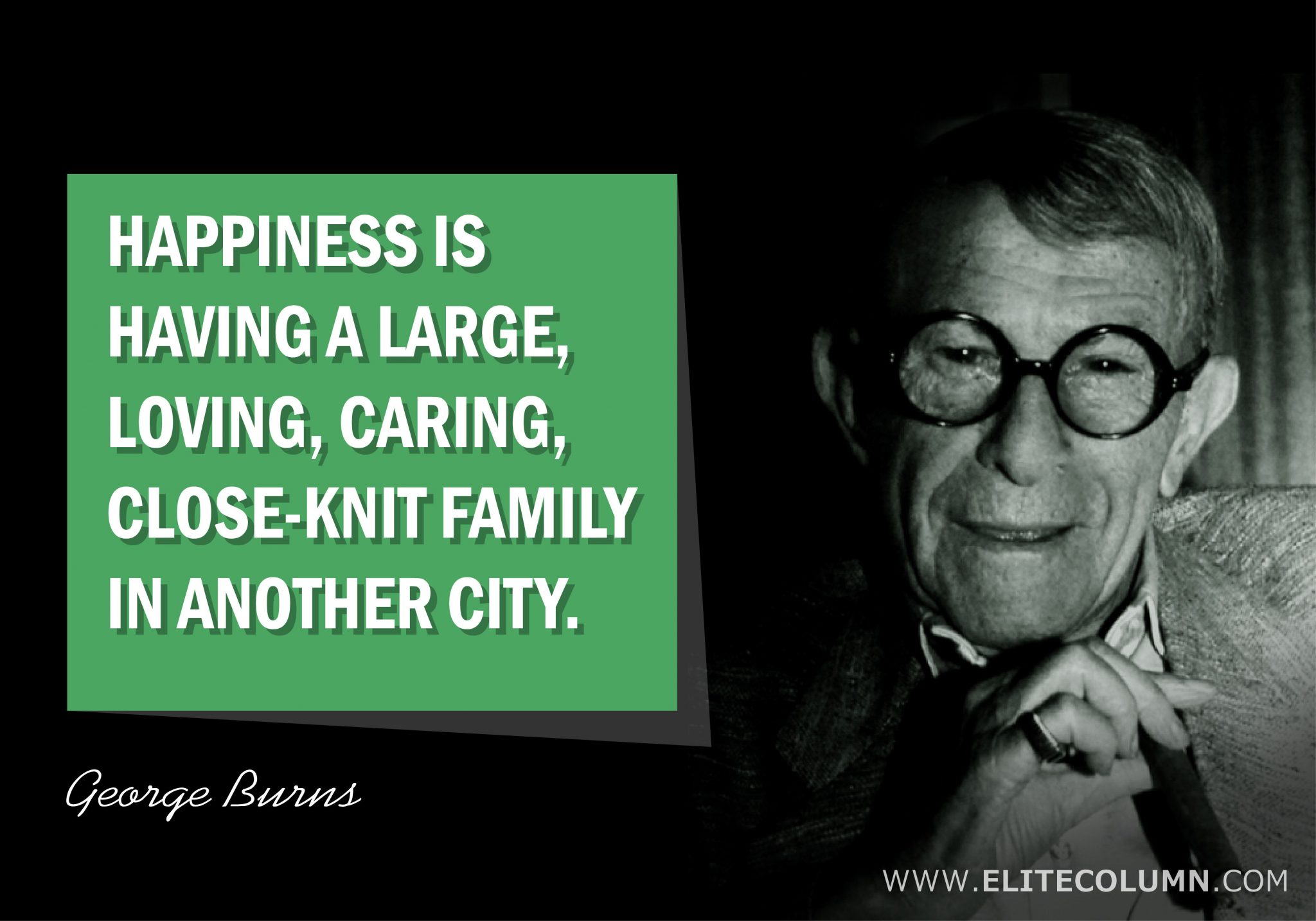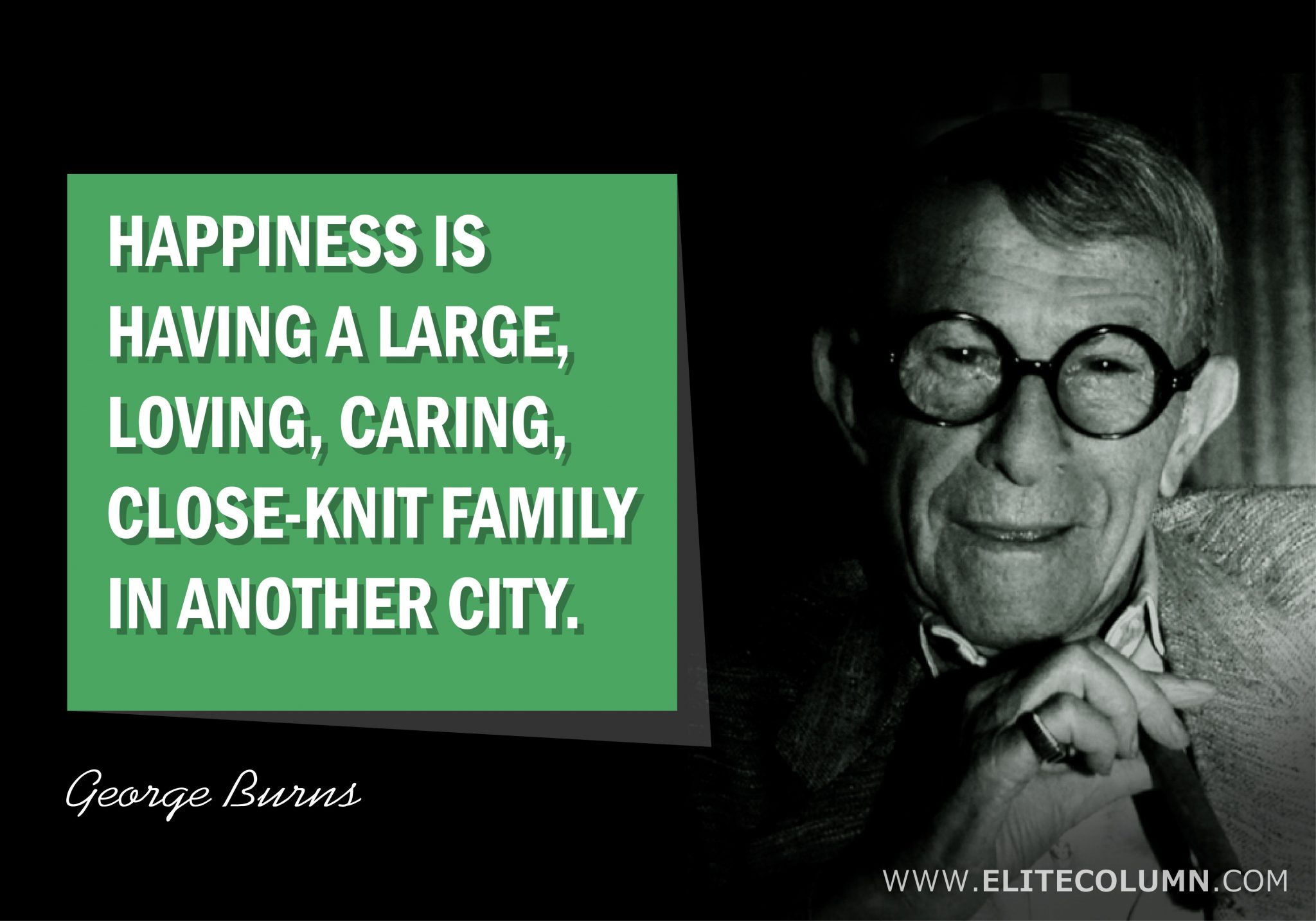 7. "Happiness is having a large, loving, caring, close-knit family in another city." – George Burns
8. "Happiness is not a station you arrive at, but a manner of traveling." – Margaret Lee Runbeck
9. "True happiness is not attained through self-gratification, but through fidelity to a worthy purpose." – Helen Keller
10. "Blessed are those who can give without remembering and take without forgetting." – Bernard Meltzer
11. "Success is getting what you want. Happiness is wanting what you get." – Dale Carnegie
12. "The happiness of life is made up of the little charities of a kiss or smile, a kind look, a heartfelt compliment." – Samuel Taylor Coleridge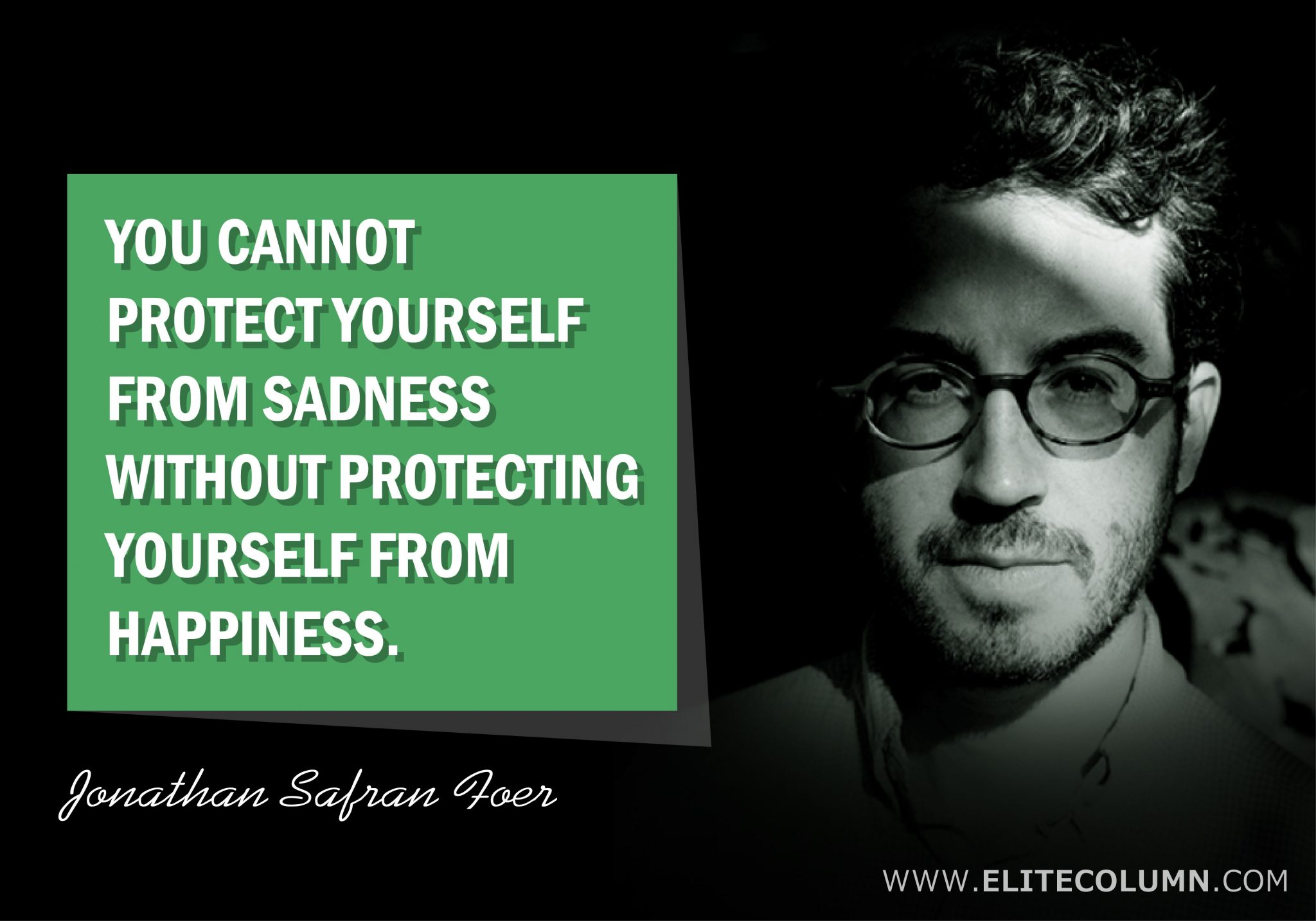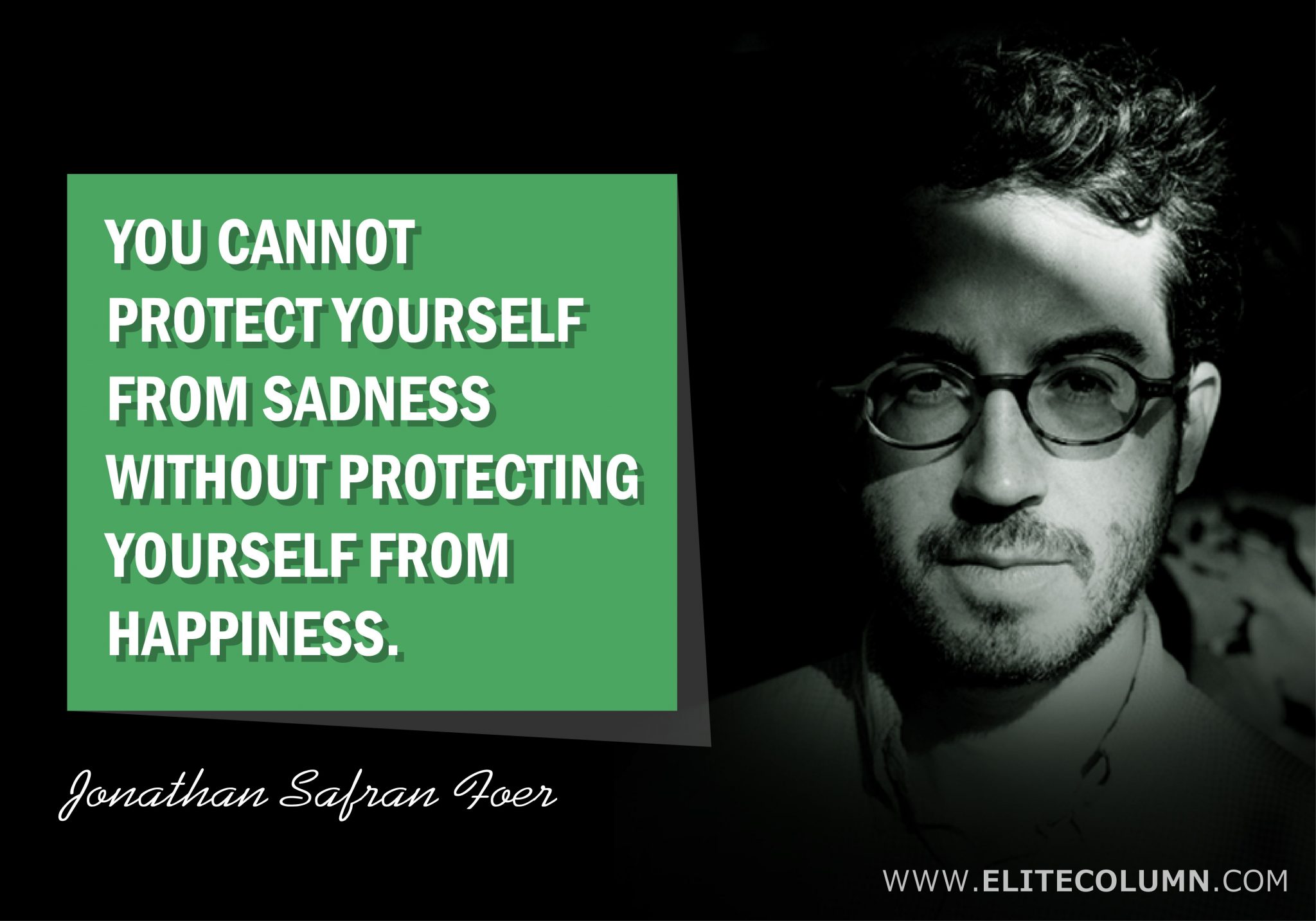 13. "You cannot protect yourself from sadness without protecting yourself from happiness." – Jonathan Safran Foer
14. "Some cause happiness wherever they go; others whenever they go." – Oscar Wilde
15. "Happiness is not in the mere possession of money; it lies in the joy of achievement, in the thrill of creative effort." – Franklin D. Roosevelt
16. "It's been my experience that you can nearly always enjoy things if you make up your mind firmly that you will." – L.M. Montgomery
17. "Very little is needed to make a happy life; it is all within yourself, in your way of thinking." – Marcus Aurelius Antoninus
18. "If you want to be happy, set a goal that commands your thoughts, liberates your energy, and inspires your hopes." – Andrew Carnegie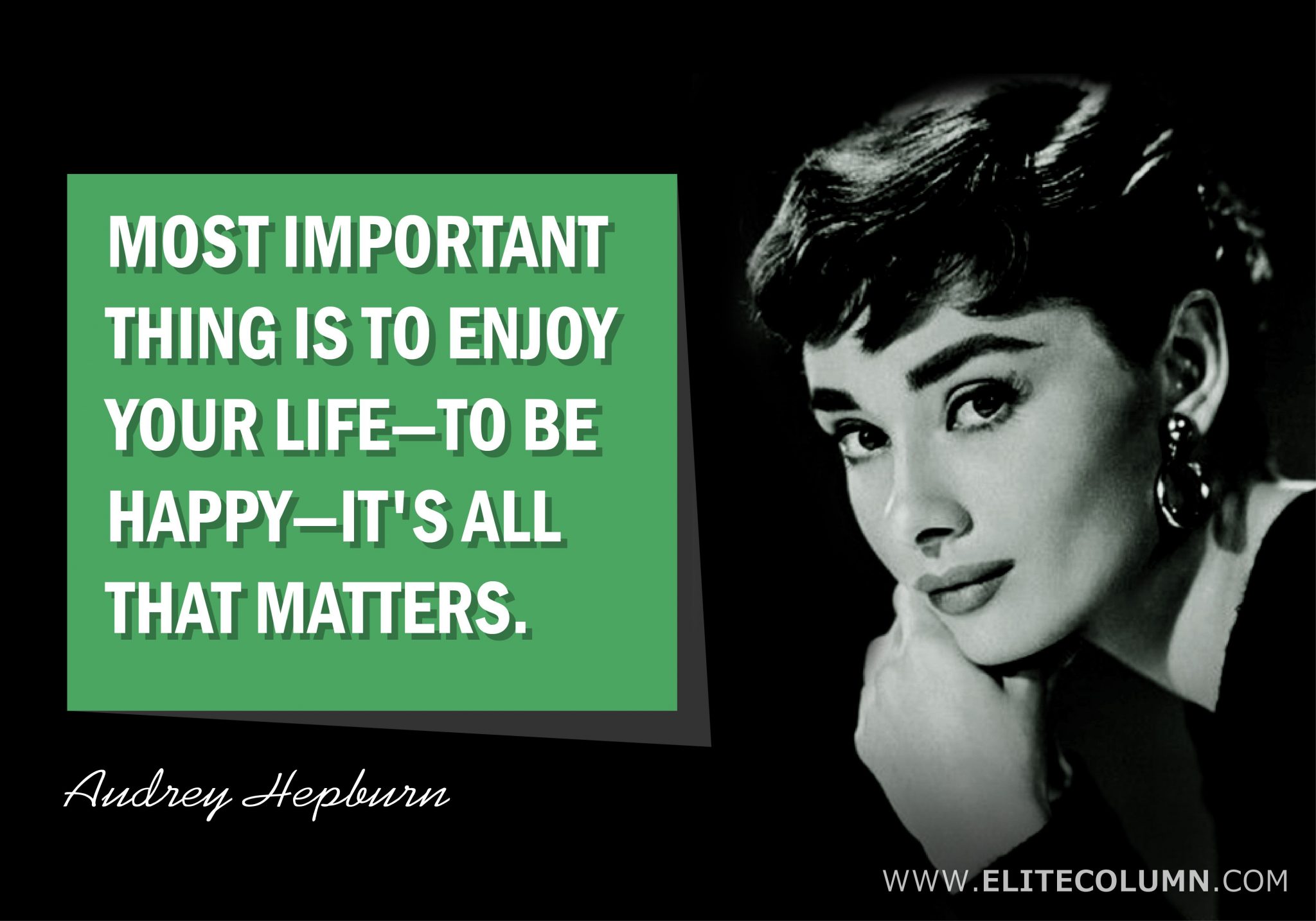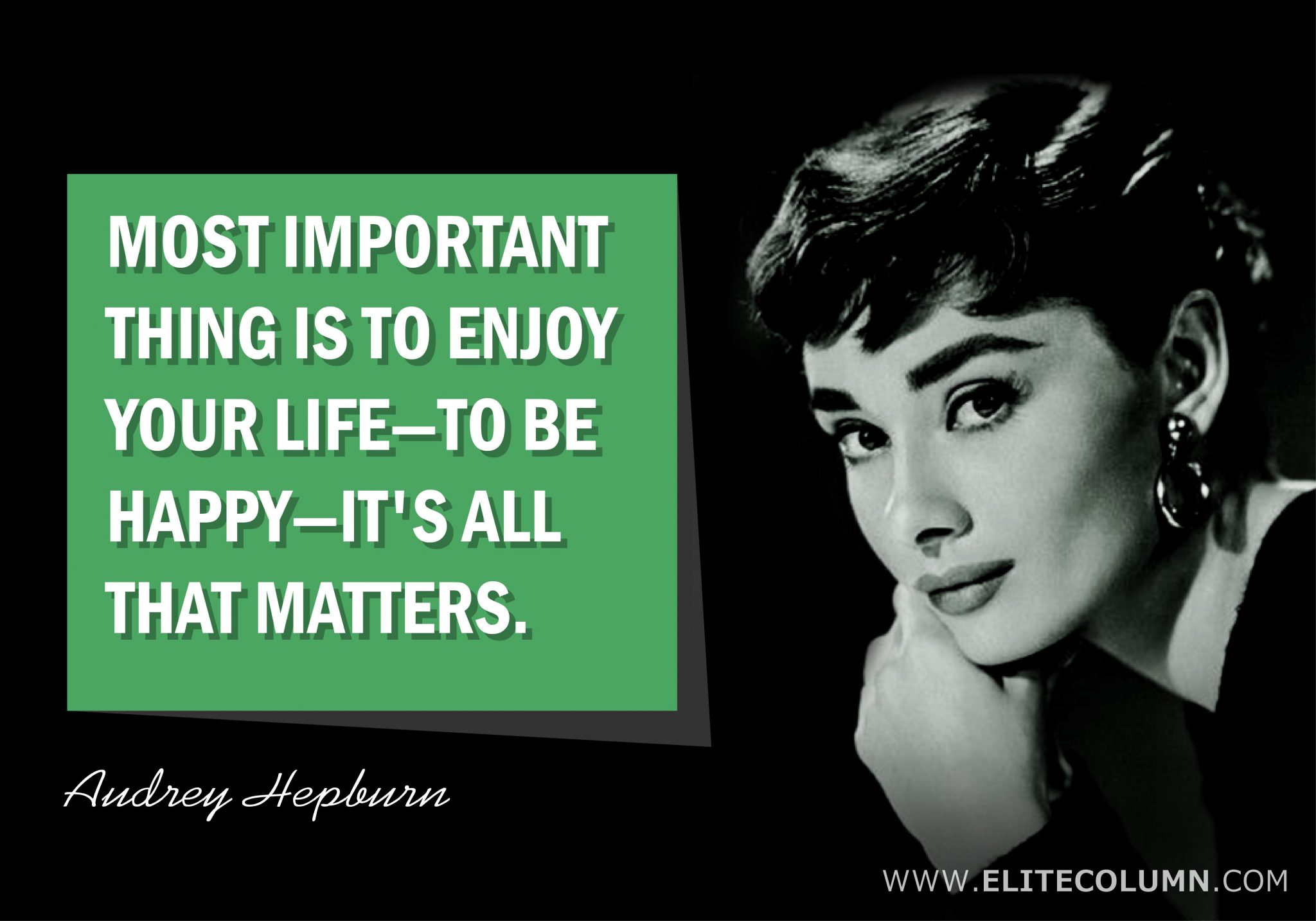 19. "Most important thing is to enjoy your life – to be happy – it's all that matters." – Audrey Hepburn
20. "Happiness is a warm puppy." – Charles M. Schulz
21. "Happiness is holding someone in your arms and knowing you hold the whole world." – Orhan Pamuk
22. "All happiness depends on courage and work." – Honoré de Balzac
23. "Let no one ever come to you without leaving better and happier." – Mother Teresa
24. "Now and then it's good to pause in our pursuit of happiness and just be happy." – Apollinaire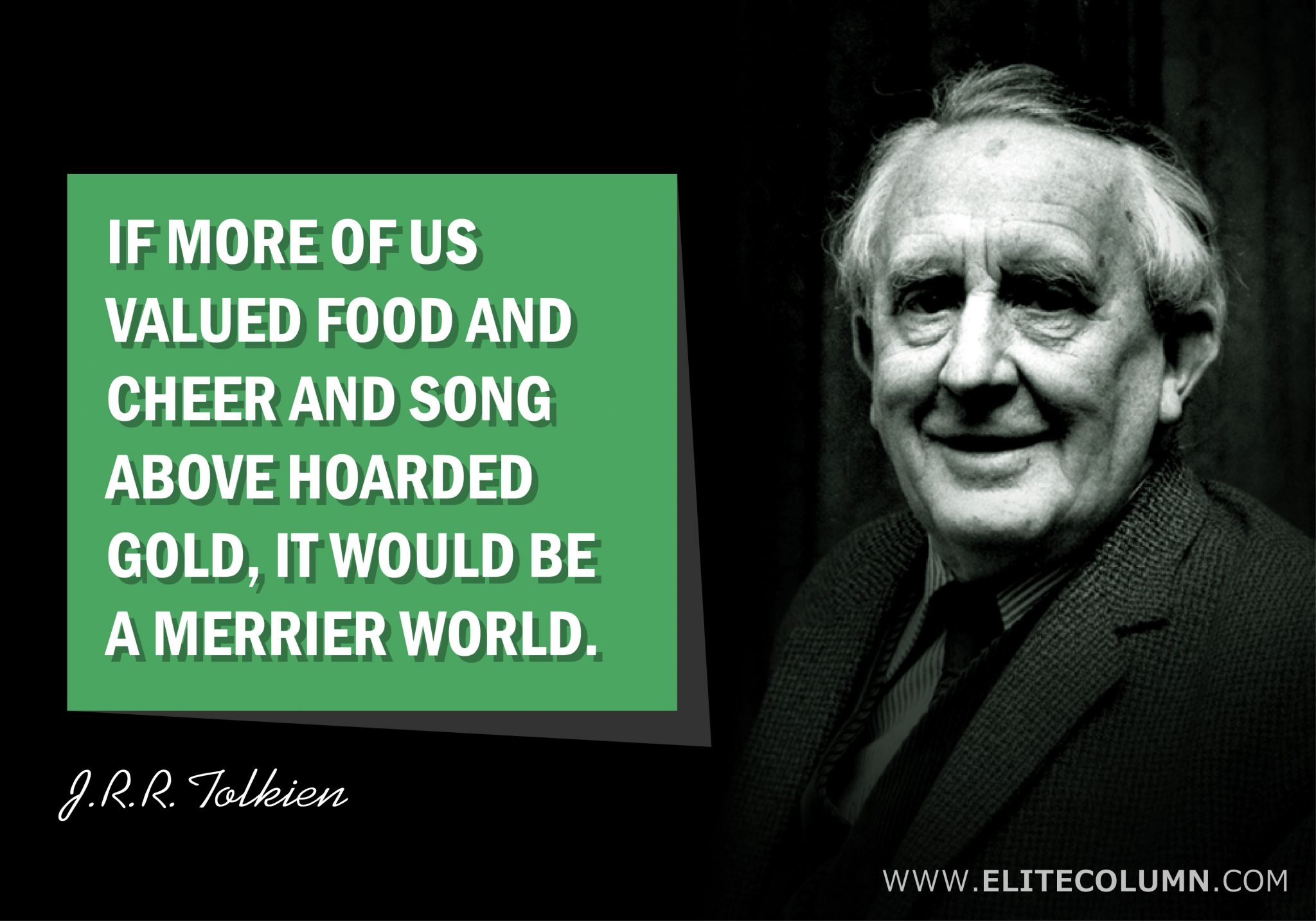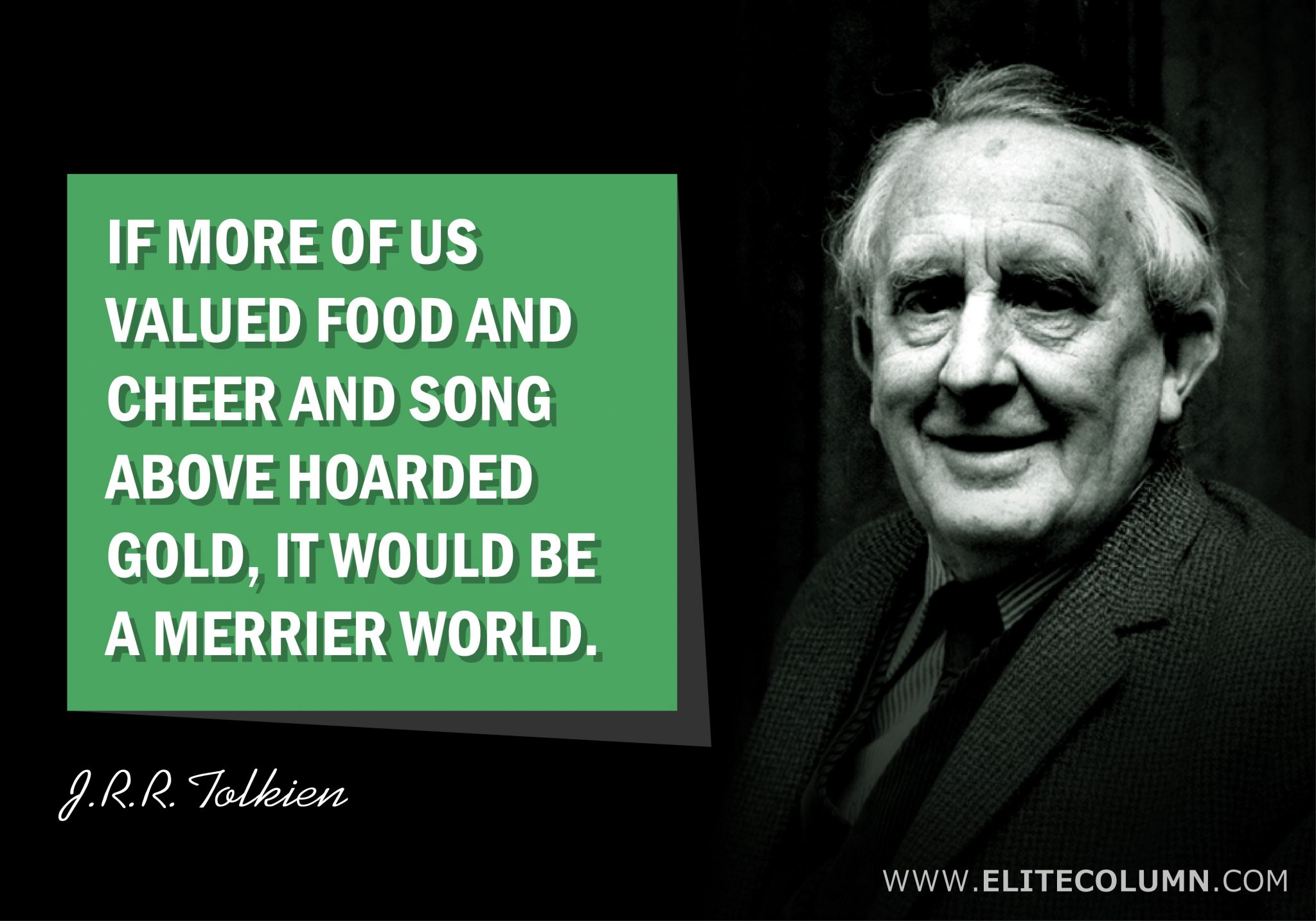 25. "If more of us valued food and cheer and song above hoarded gold, it would be a merrier world." – J.R.R. Tolkien
26. "The happiness of your life depends upon the quality of your thoughts." – Marcus Aurelius
27. "Happiness is not the absence of problems, it's the ability to deal with them." – Steve Maraboli
28. "I'm choosing happiness over suffering, I know I am. I'm making space for the unknown future to fill up my life with yet-to-come surprises." – Elizabeth Gilbert
29. "Whoever is happy will make others happy." – Anne Frank
30. "The greater part of our happiness or misery depends upon our dispositions, and not upon our circumstances." – Martha Washington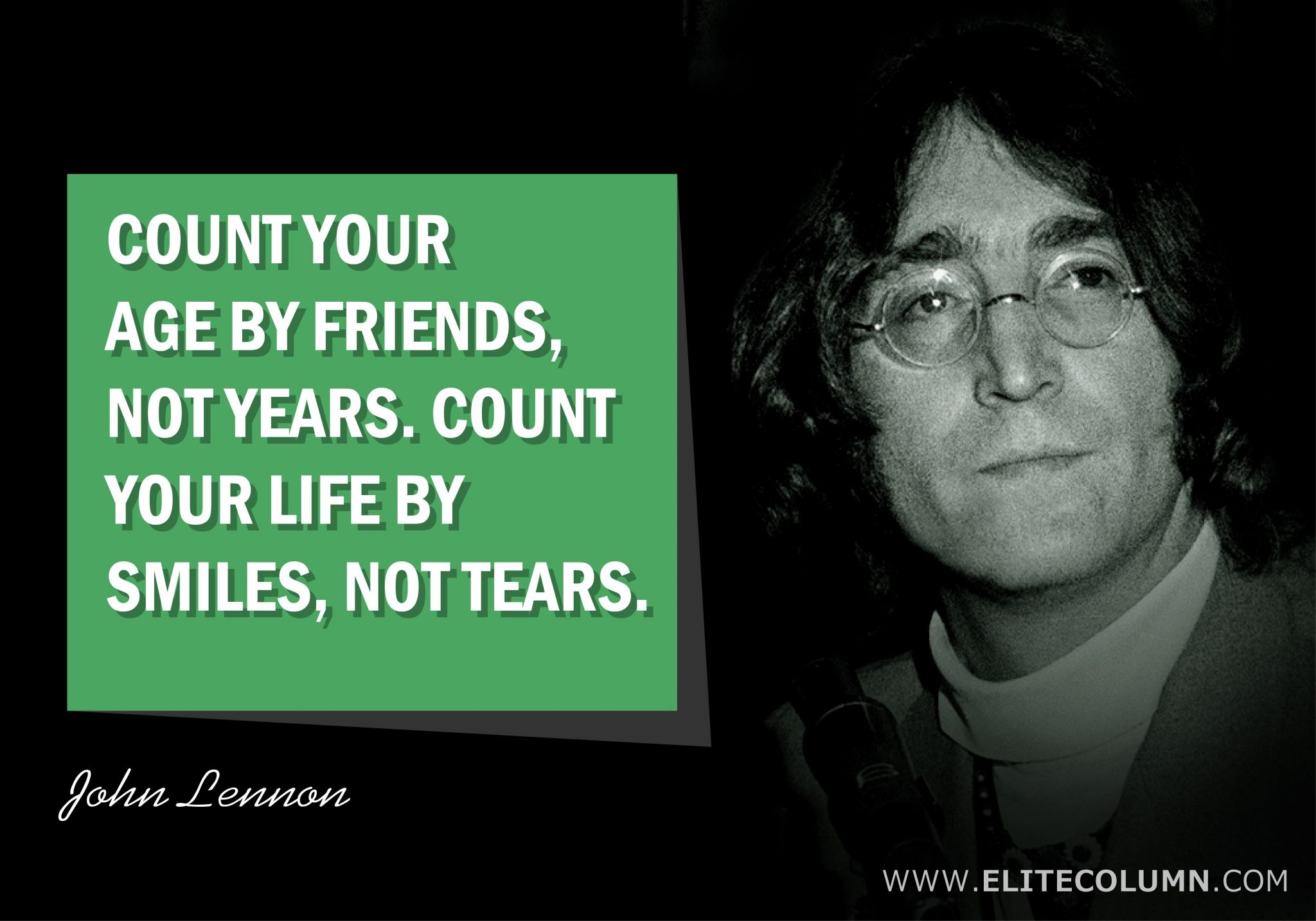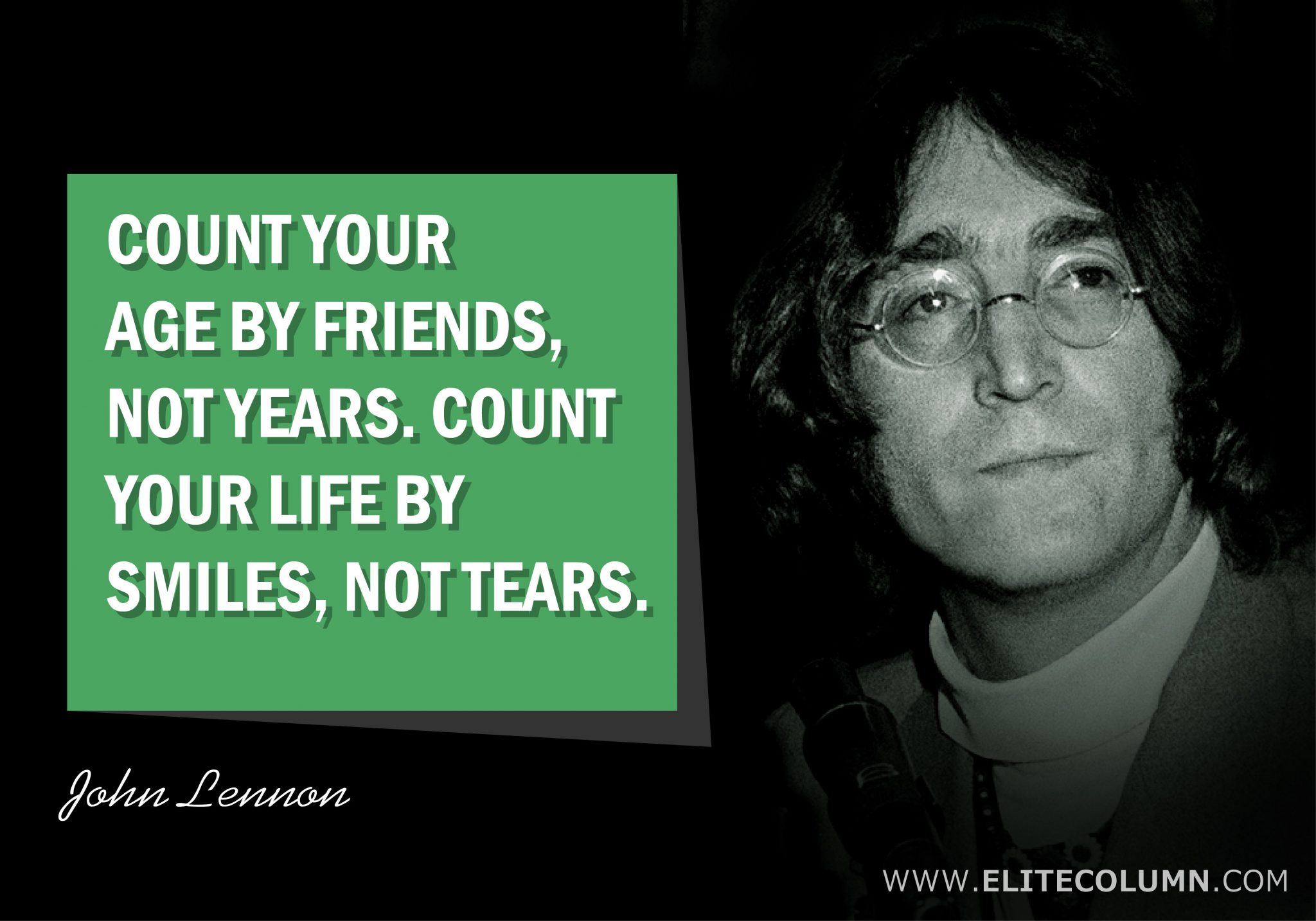 31. "Count your age by friends, not years. Count your life by smiles, not tears." – John Lennon
32. "Happiness is not a possession to be prized, it is a quality of thought, a state of mind." – Daphne du Maurier
33. "The power of finding beauty in the humblest things makes home happy and life lovely." – Louisa May Alcott
34. "Action may not always bring happiness, but there is no happiness without action. " – William James
35. "If only we'd stop trying to be happy, we could have a pretty good time." – Edith Wharton
36. "Happiness is a risk. If you're not a little scared, then you're not doing it right." – Sarah Addison Allen
See also:
Heartbreak Quotes | Growing Up Quotes | Intimacy Quotes | Music Quotes | Rebellious Quotes | Smile Quotes | Relationship Quotes | Woman Quotes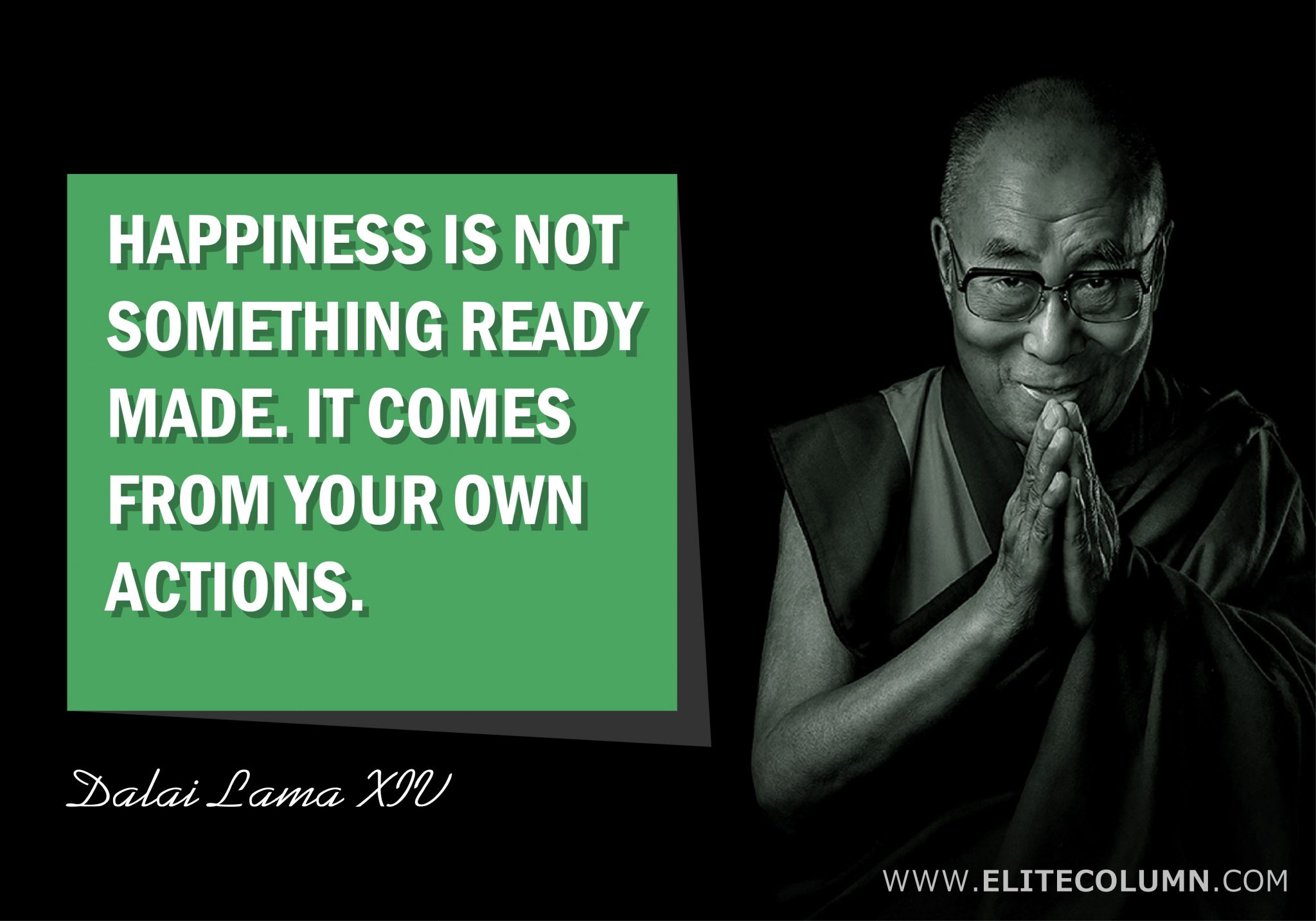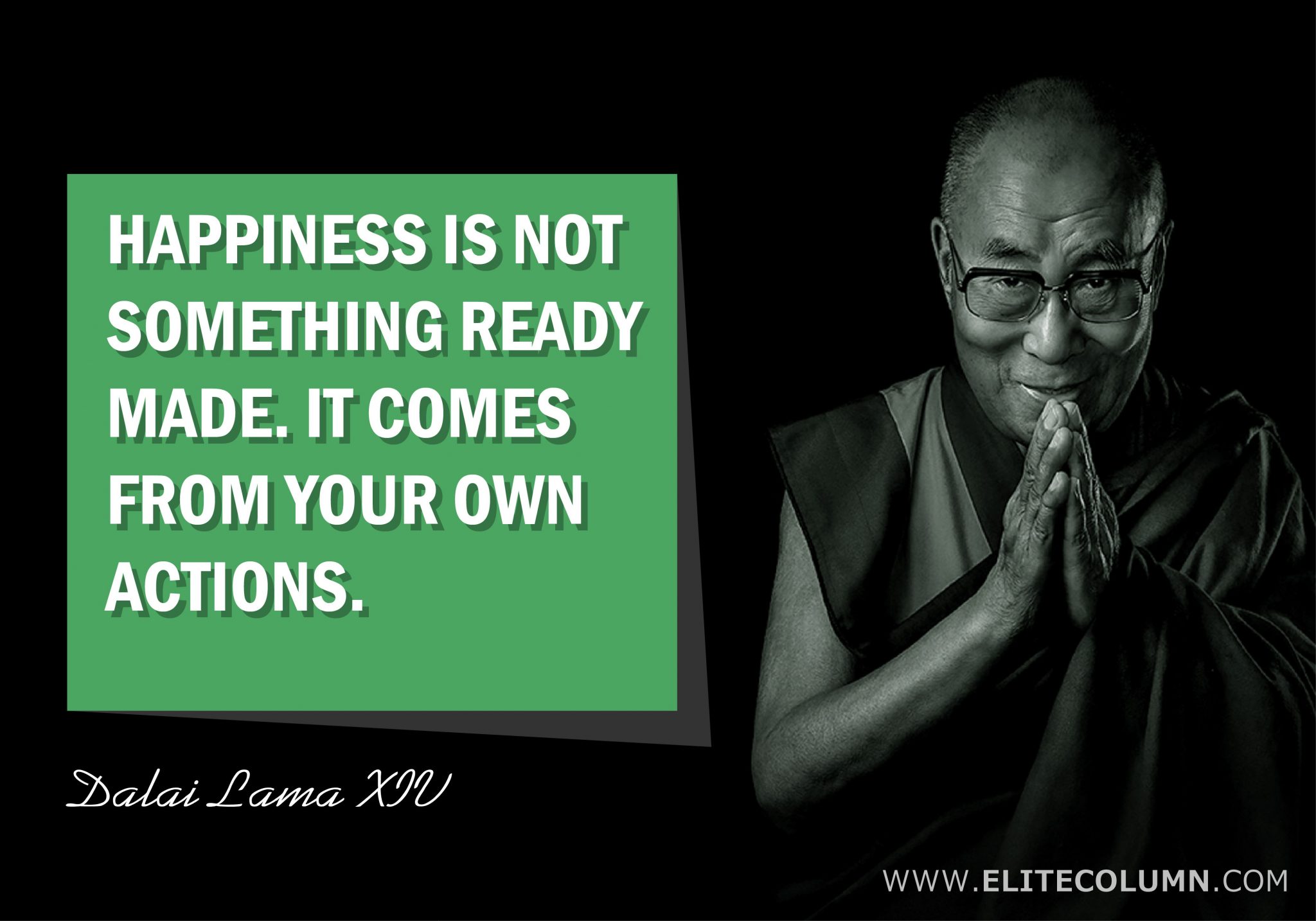 37. "Happiness is not something ready made. It comes from your own actions." – Dalai Lama XIV
38. "The more you praise and celebrate your life, the more there is in life to celebrate." – Oprah Winfrey
39. "There is no happiness like that of being loved by your fellow creatures, and feeling that your presence is an addition to their comfort." – Charlotte Brontë
40. "There is only one way to happiness and that is to cease worrying about things which are beyond the power or our will. " – Epictetus
41. "Happiness is a perfume you cannot pour on others without getting some on yourself." – Ralph Waldo Emerson
42. "Everyone wants to live on top of the mountain, but all the happiness and growth occurs while you're climbing it." – Andy Rooney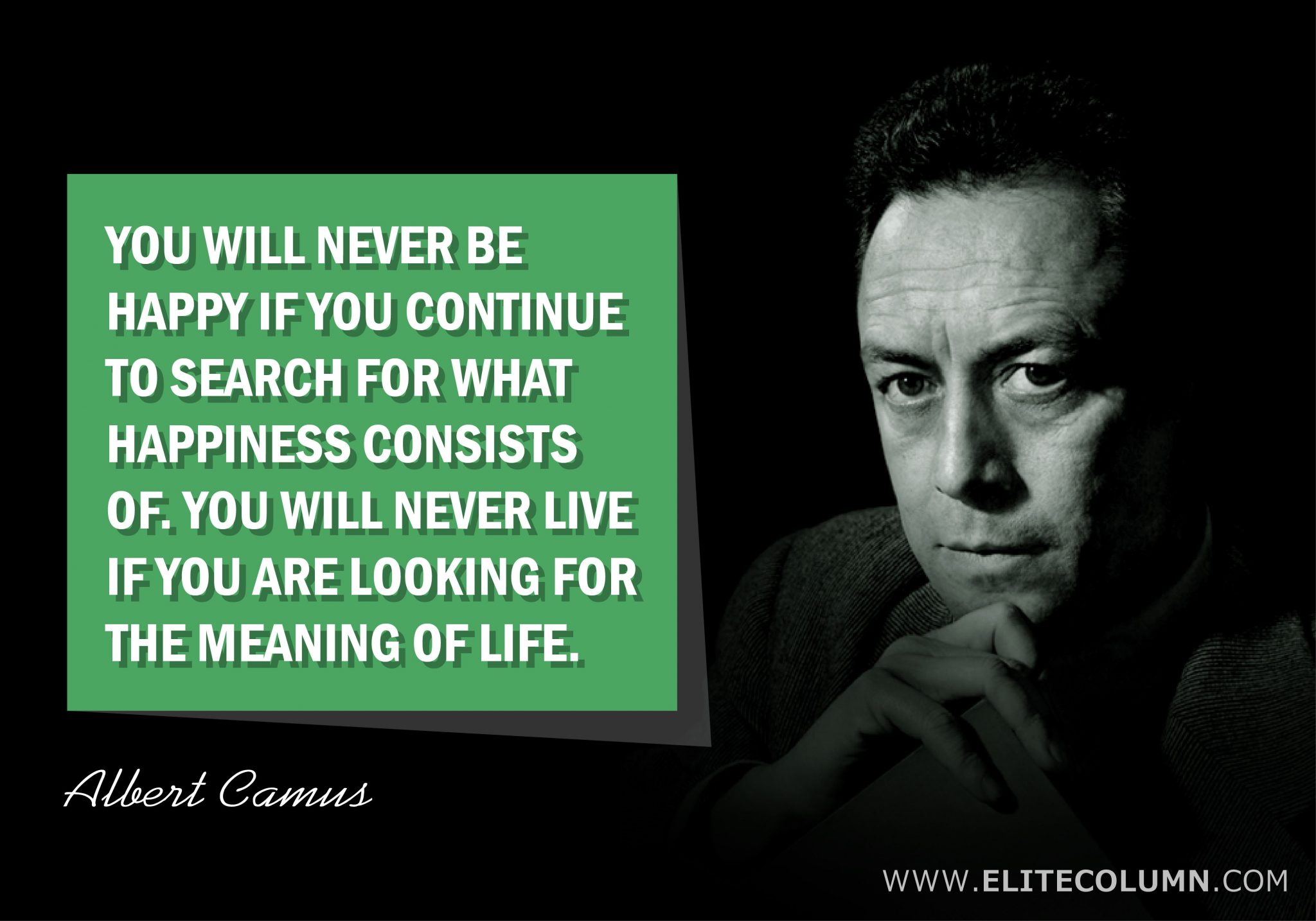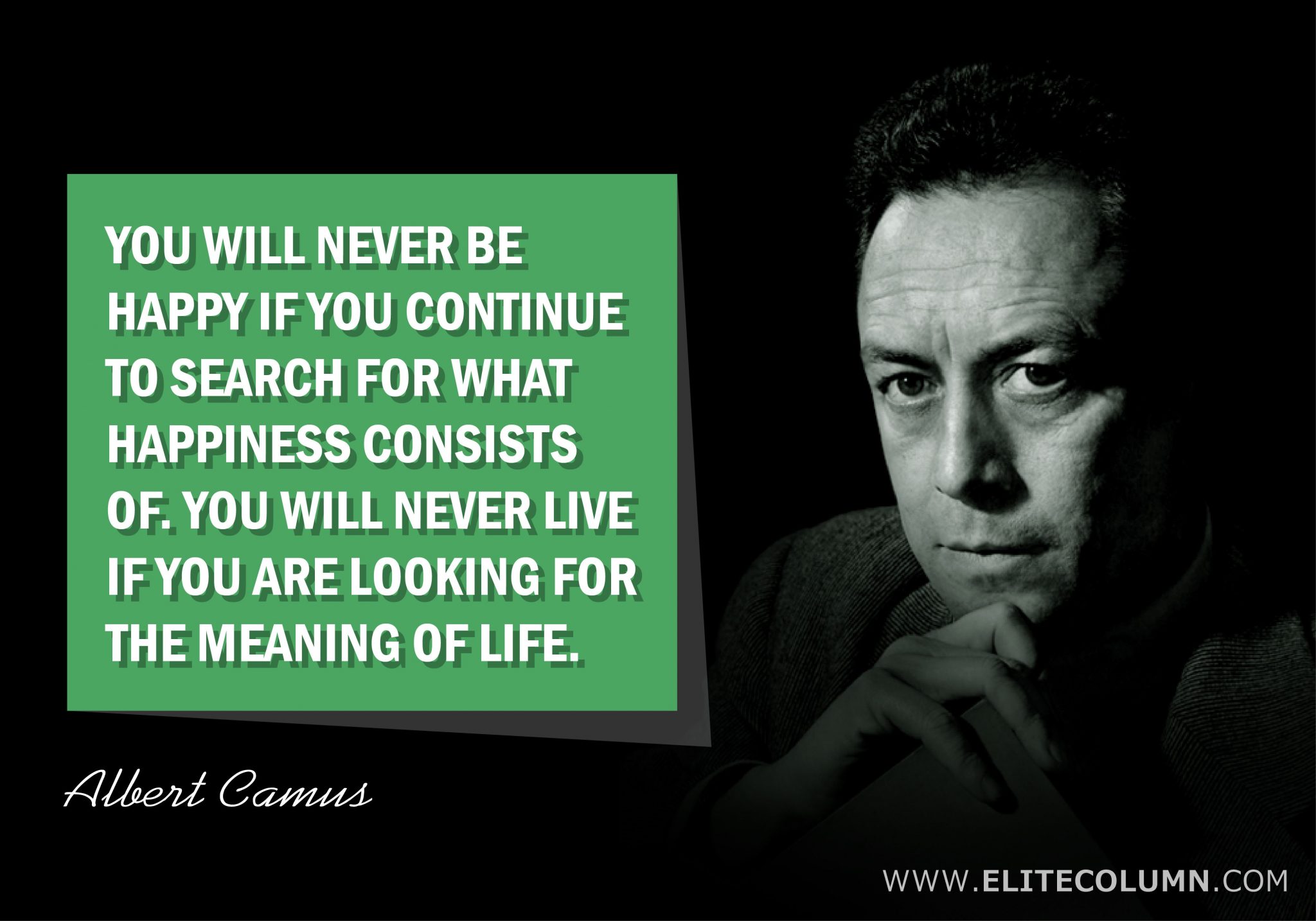 43. "You will never be happy if you continue to search for what happiness consists of. You will never live if you are looking for the meaning of life." – Albert Camus
44. "Happiness depends upon ourselves." – Aristotle
45. "There's nothing like deep breaths after laughing that hard. Nothing in the world like a sore stomach for the right reasons." – Stephen Chbosky
46. "The most important thing is to enjoy your life – to be happy – it's all that matters." – Audrey Hepburn
47. "Just because you are happy it does not mean that the day is perfect but that you have looked beyond its imperfections" – Bob Marley
48. "One must believe in the possibility of happiness in order to be happy." – Leo Tolstoy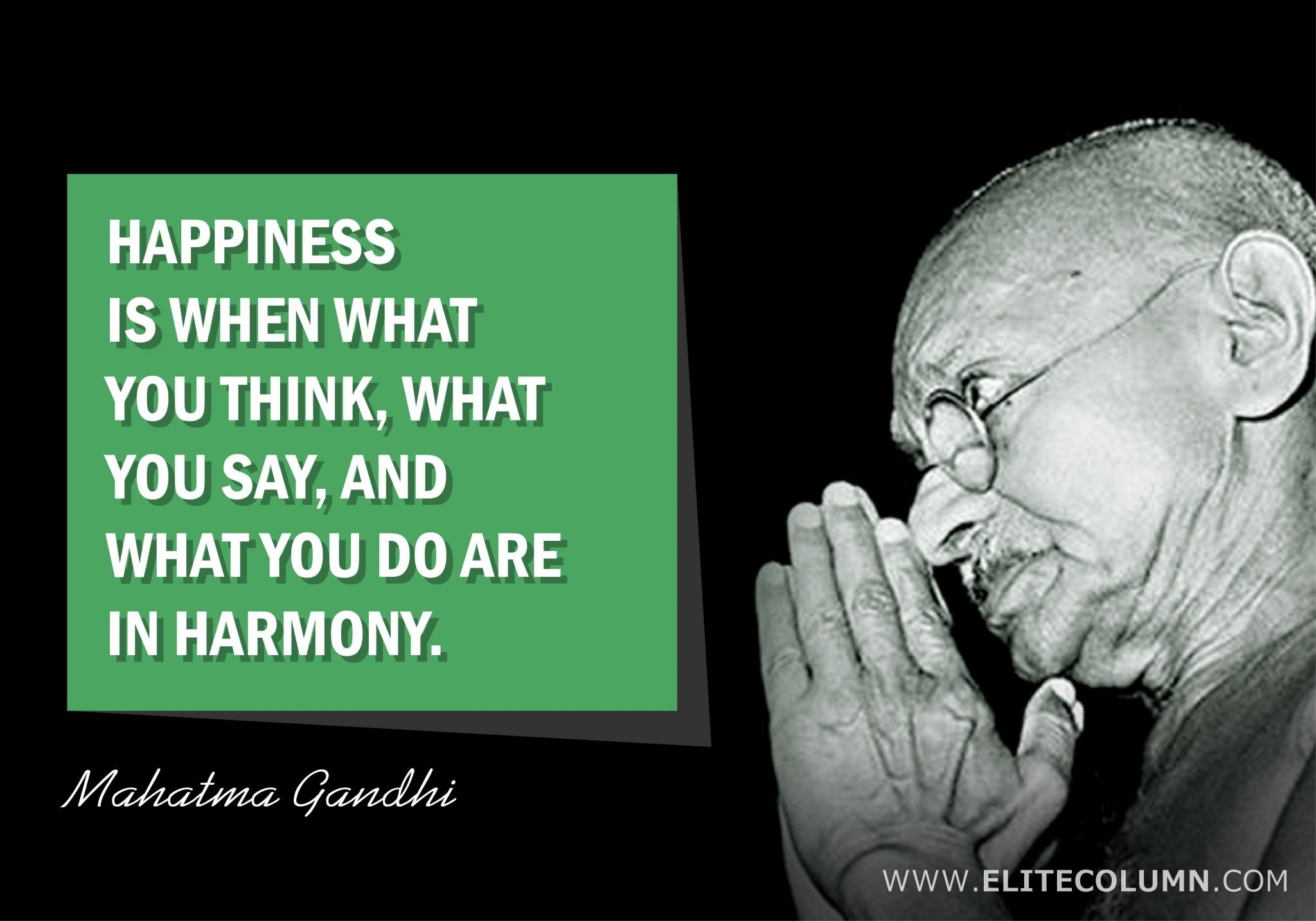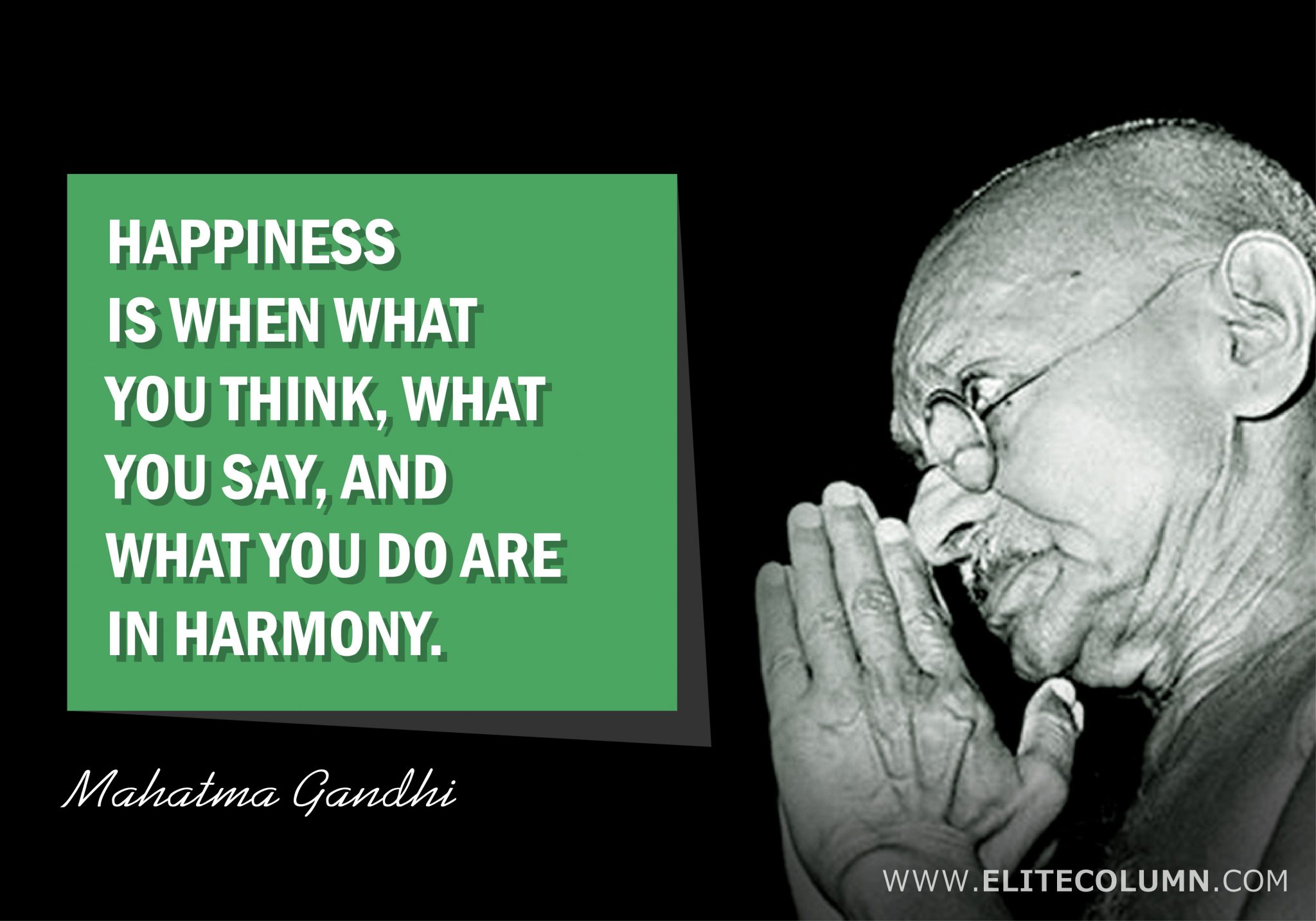 49. "Happiness is when what you think, what you say, and what you do are in harmony." – Mahatma Gandhi
50. "The secret of happiness is not in doing what one likes, but in liking what one does." – J.M. Barrie
51. "Happiness only real when shared." – Christopher McCandless
52. "You must be the best judge of your own happiness." – Jane Austen
53. "There is a kind of happiness and wonder that makes you serious. It is too good to waste on jokes." – C.S. Lewis
54. "I shall take the heart. For brains do not make one happy, and happiness is the best thing in the world." – L. Frank Baum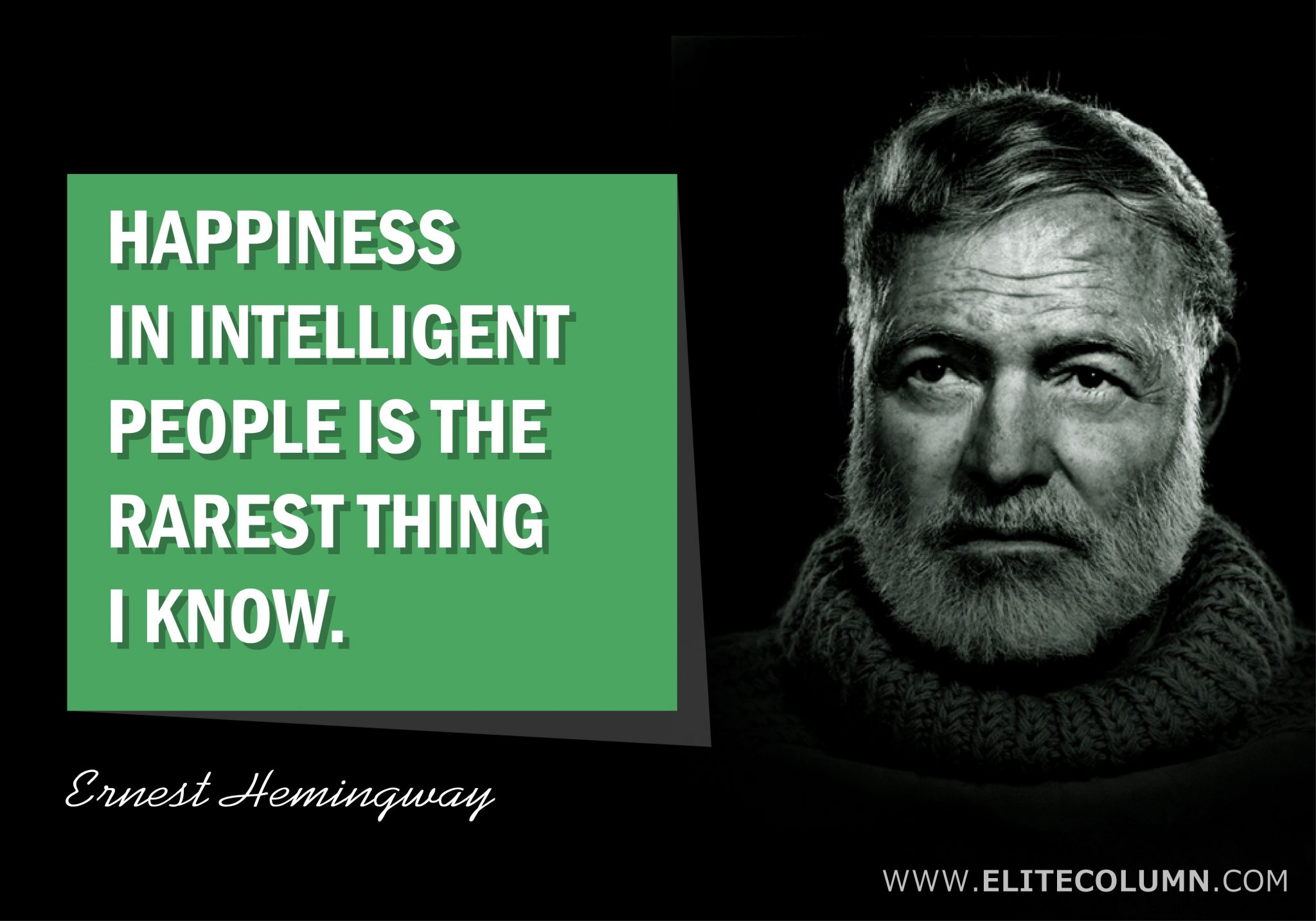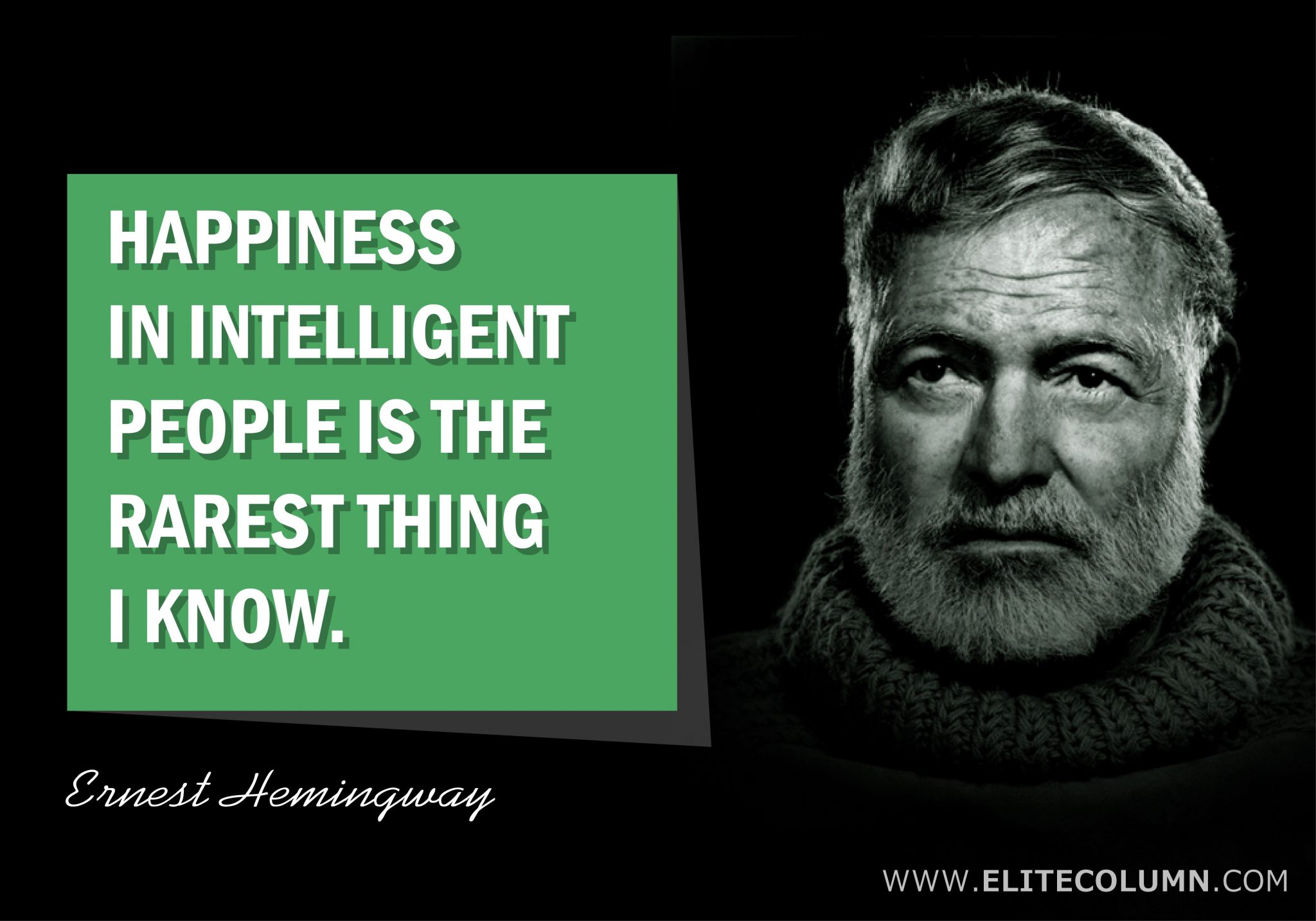 55. "Happiness in intelligent people is the rarest thing I know." – Ernest Hemingway
56. "Got no checkbooks, got no banks. Still I'd like to express my thanks – I've got the sun in the mornin' and the moon at night." – Irving Berlin
57. "Do not look for happiness outside yourself. The awakened seek happiness inside." – Peter Deunov
58 "Happiness is like those palaces in fairytales whose gates are guarded by dragons: We must fight in order to conquer it." – Alexandre Dumas
59. "Happiness and confidence are the prettiest things you can wear" – Taylor Swift
60. "The thing everyone should realize is that the key to happiness is being happy for yourself and yourself." – Ellen DeGeneres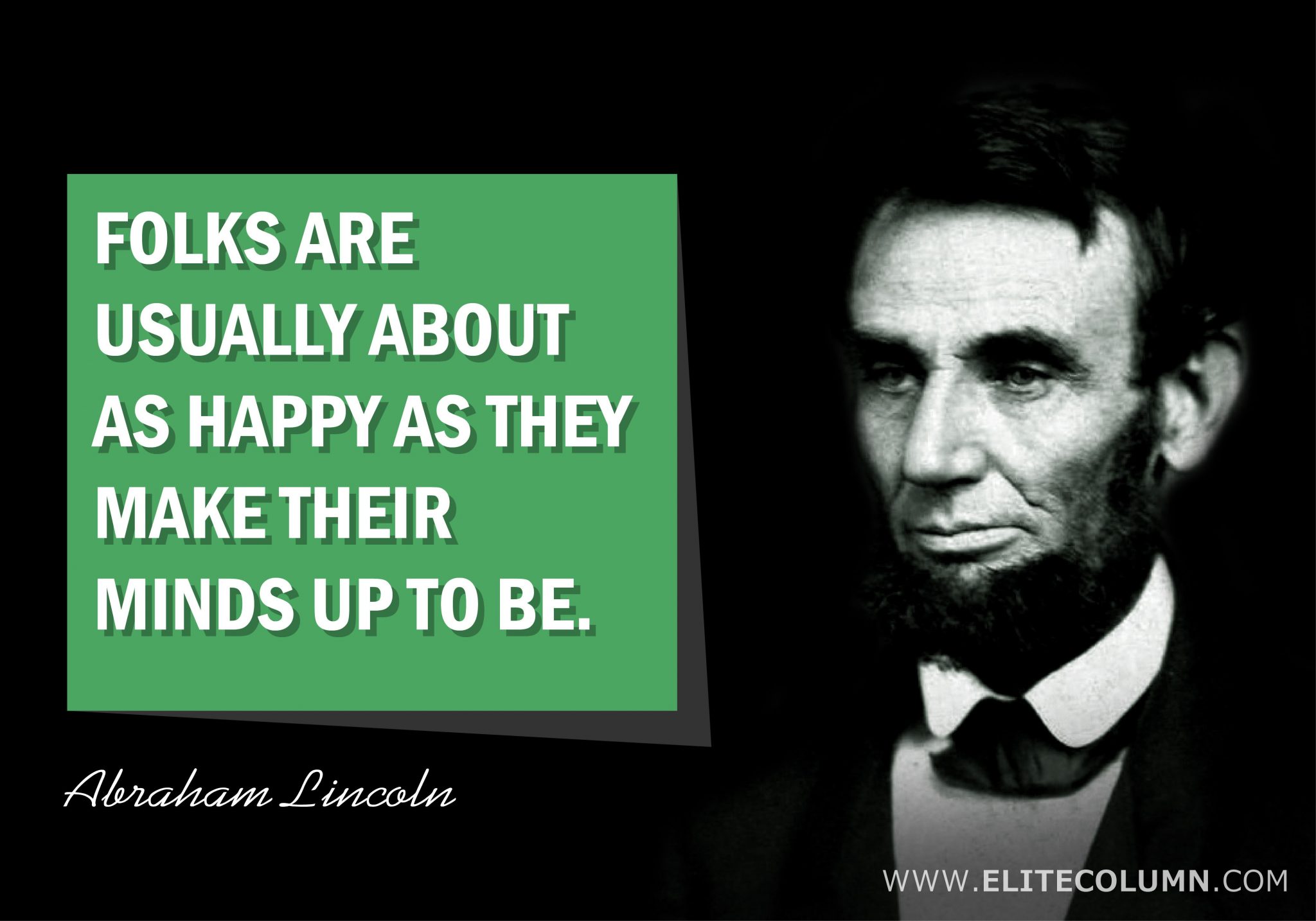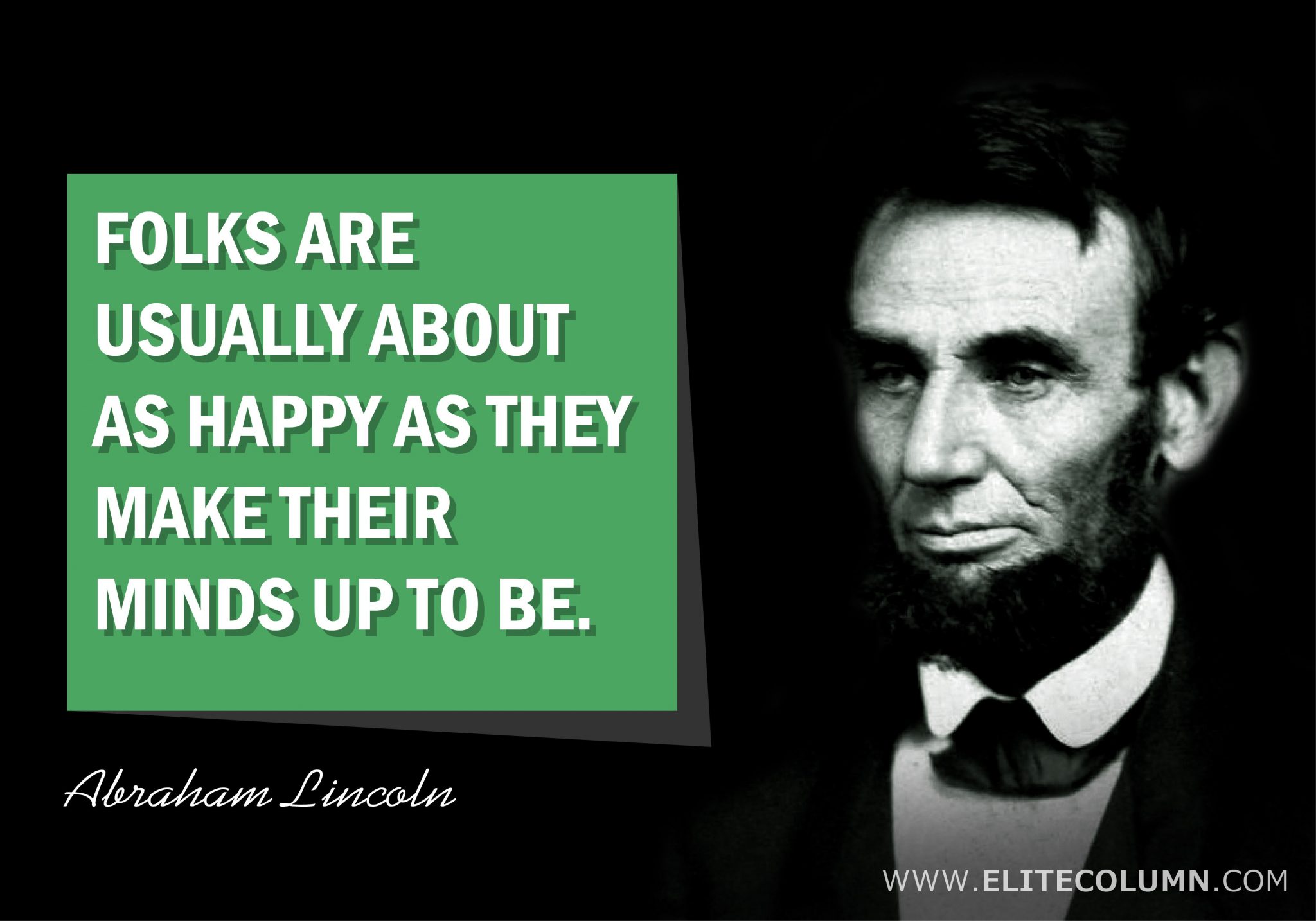 61. "Folks are usually about as happy as they make their minds up to be." – Abraham Lincoln
62. "My happiness grows in direct proportion to my acceptance, and in inverse proportion to my expectations." – Michael J. Fox
63. "Most people would rather be certain they're miserable, than risk being happy." – Robert Anthony
64. "Happiness is a choice that requires effort at times." – Aeschylus
65. "I do not think we have a 'right' to happiness. If happiness happens, say thanks." – Marlene Dietrich
66. "Of all the means to insure happiness throughout the whole life, by far the most important is the acquisition of friends." – Epicurus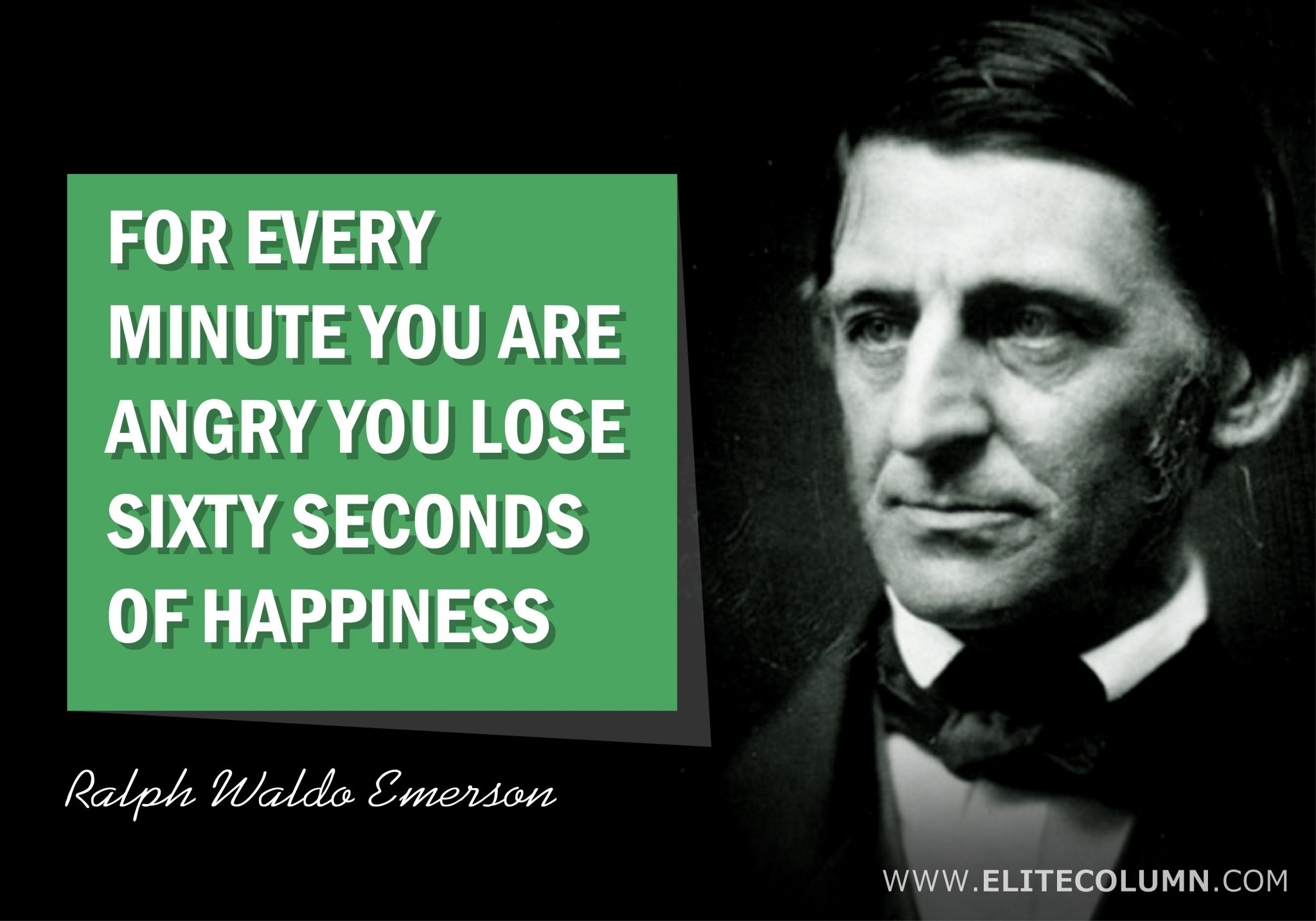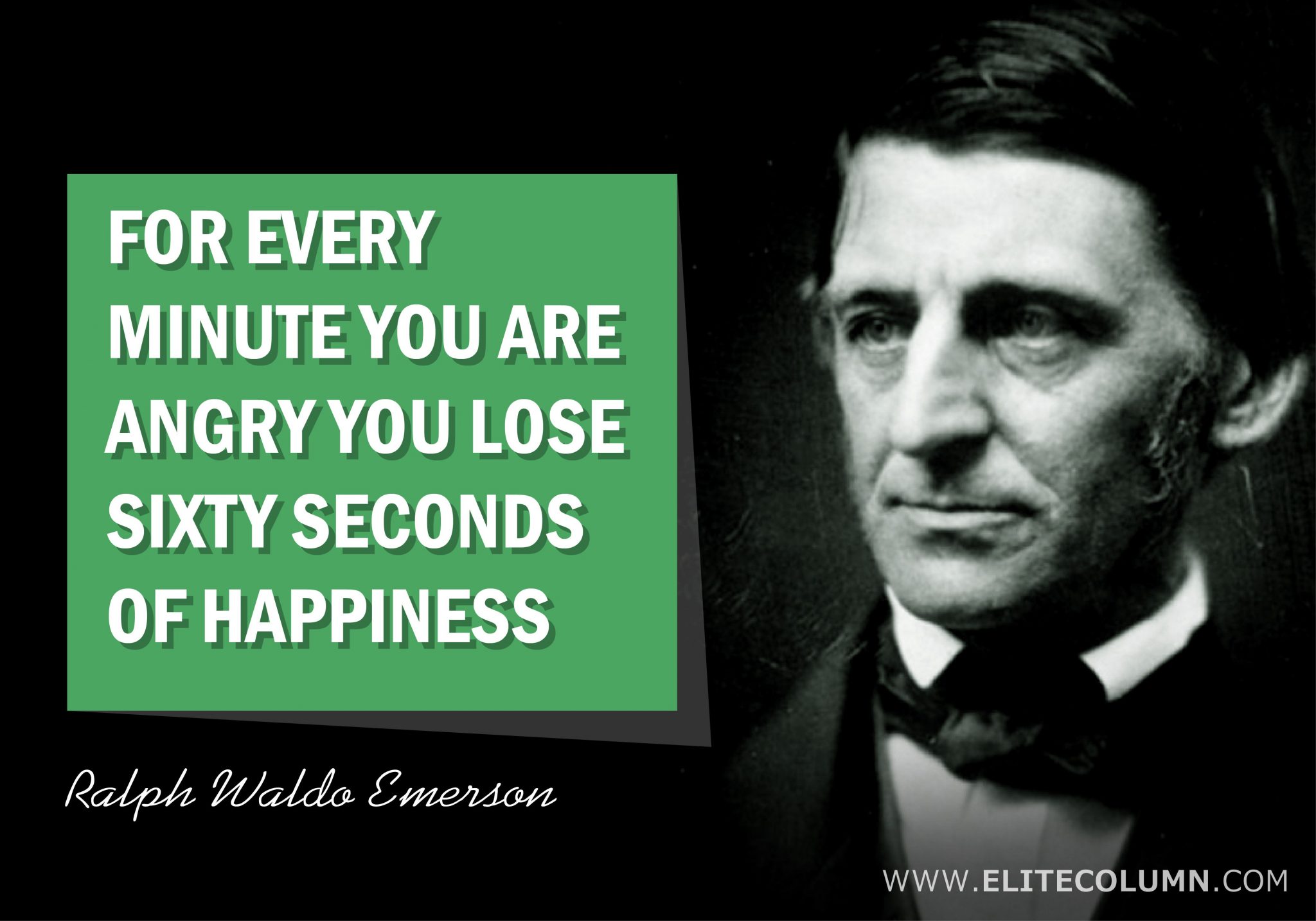 67. "For every minute you are angry you lose sixty seconds of happiness." – Ralph Waldo Emerson
68. "The supreme happiness of life is the conviction that we are loved." – Victor Hugo
69. "Happiness is a gift and the trick is not to expect it, but to delight in it when it comes." – Charles Dickens
70. "The secret of a happy life is respect. Respect for yourself and respect for others." – Ayad Akhtar
Thanks for checking out the best Happiness quotes. Feel free to share the quotes with your friends. Leave a comment below and which are your favorite Happiness quotes ?
See also:
Inspirational Quotes | Life Quotes | Karma Quotes | Plato Quotes | Sun Tzu Quotes | Dalai Lama Quotes | Sadhguru Quotes | Confucius Quotes | Lao Tzu Quotes | Positive Quotes
You can find us at – Facebook | Instagram | LinkedIn | Pinterest | Twitter