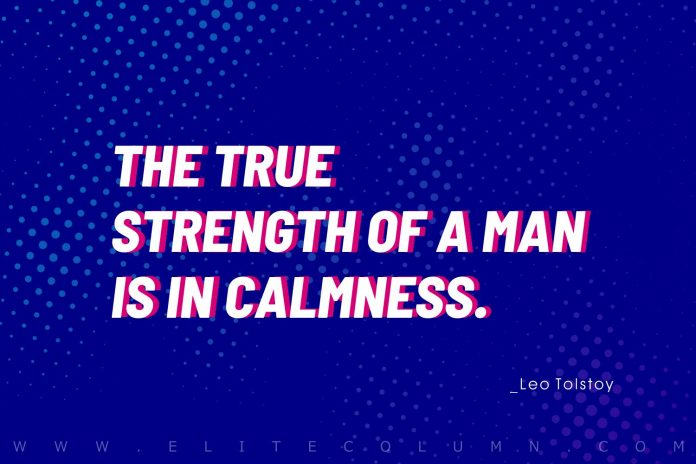 Check out 50 Calm Quotes today.
50 Best Calm Quotes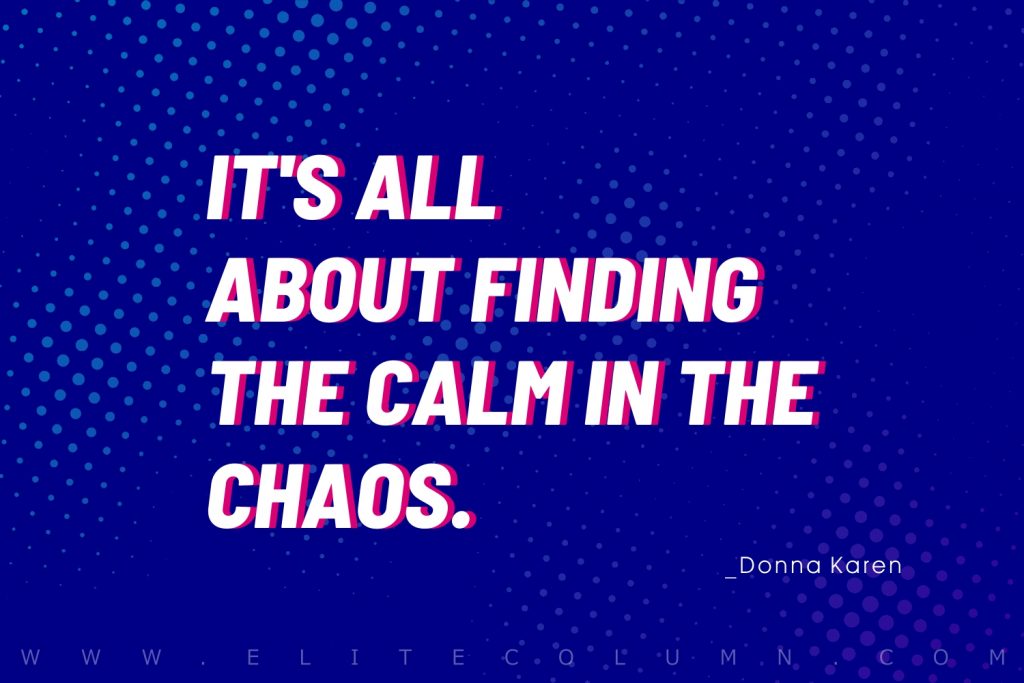 1. "It's all about finding the calm in the chaos." – Donna Karen
2. "Pause. Drink Water. Revaluate." – Avinash VS
3. "If it comes, let it come. If it goes, it's ok, let it go. Let things come and go. Stay calm, don't let anything disturb your peace, and carry on." – Germany Kent
4. "Peace doesn't deny difficulty, but it has an inner calm and quietness even while enduring the difficulty." – Glenn C. Stewart
5. "Breathe. Let go. And remind yourself that this very moment is the only one you know you have for sure." – Oprah Winfrey
6. "Anybody can pilot a ship when the sea is calm." – Navjot Singh Sidhu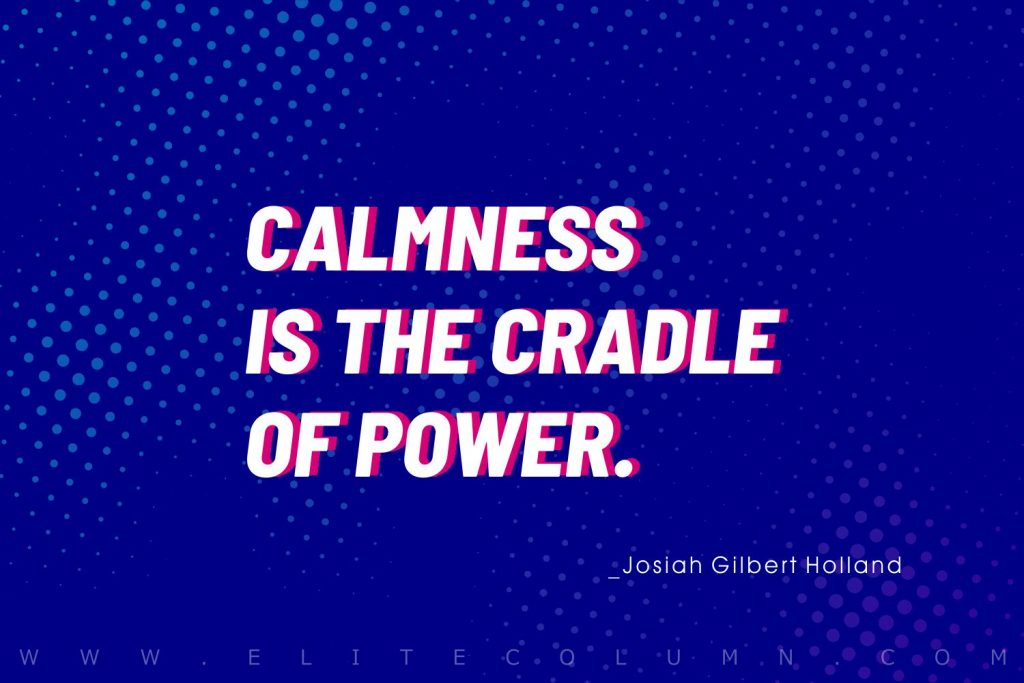 7. "Calmness is the cradle of power." – Josiah Gilbert Holland
8. "You can't selectively numb your anger, any more than you can turn off all lights in a room, and still expect to see the light." – Shannon L. Alder
9. "The more tranquil a man becomes, the greater is his success, his influence, his power for good. Calmness of mind is one of the beautiful jewels of wisdom." – James Allen
10. "A man of calm is like a shady tree. People who need shelter come to it." – Toba Beta
11. "Anxiety is love's greatest killer. It makes others feel as you might when a drowning man holds on to you. You want to save him, but you know he will strangle you with his panic." – Anais Nin
12. "Be like a duck. Calm on the surface, but always paddling like the dickens underneath." – Michael Caine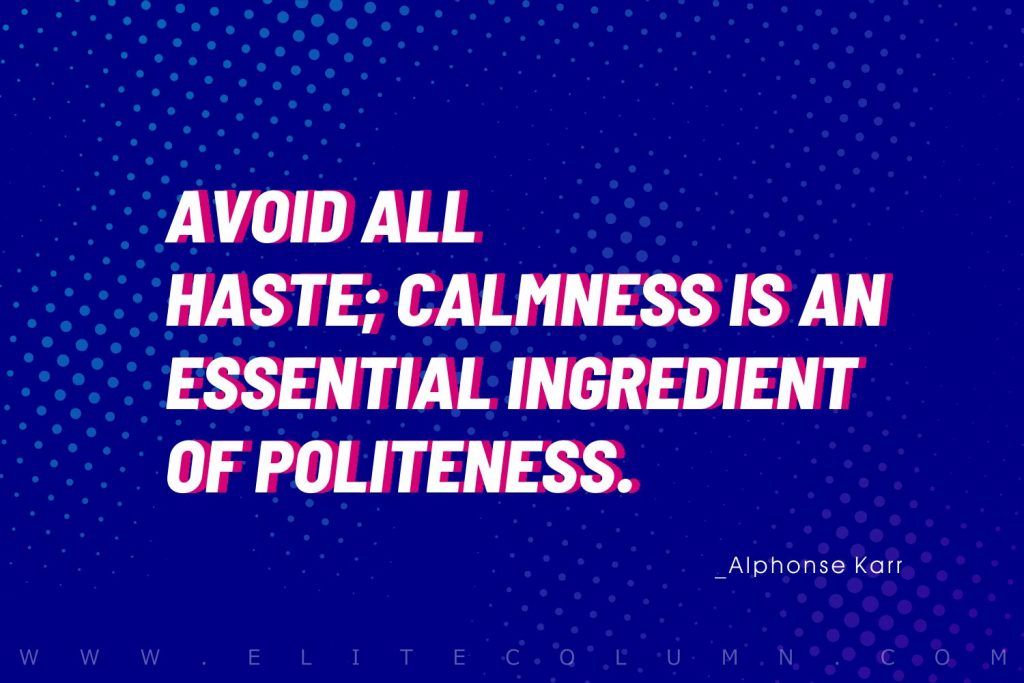 13. "Avoid all haste; calmness is an essential ingredient of politeness." – Alphonse Karr
14. "The day she let go of the things that were weighing her down, was the day she began to shine the brightest." – Katrina Mayer
15. "Step outside for a while calm your mind. It is better to hug a tree than bang your head against a wall continually." – Rasheed Ogunlaru
16. "Remain calm, serene, always in command of yourself. You will then find out how easy it is to get along" – Paramahansa Yogananda
17. "Fearlessness presupposes calmness and peace of mind." – Mahatma Gandhi
18. "Beautiful music is the art of the prophets that can calm the agitations of the soul; it is one of the most magnificent and delightful presents God has given us." – Martin Luther King Jr.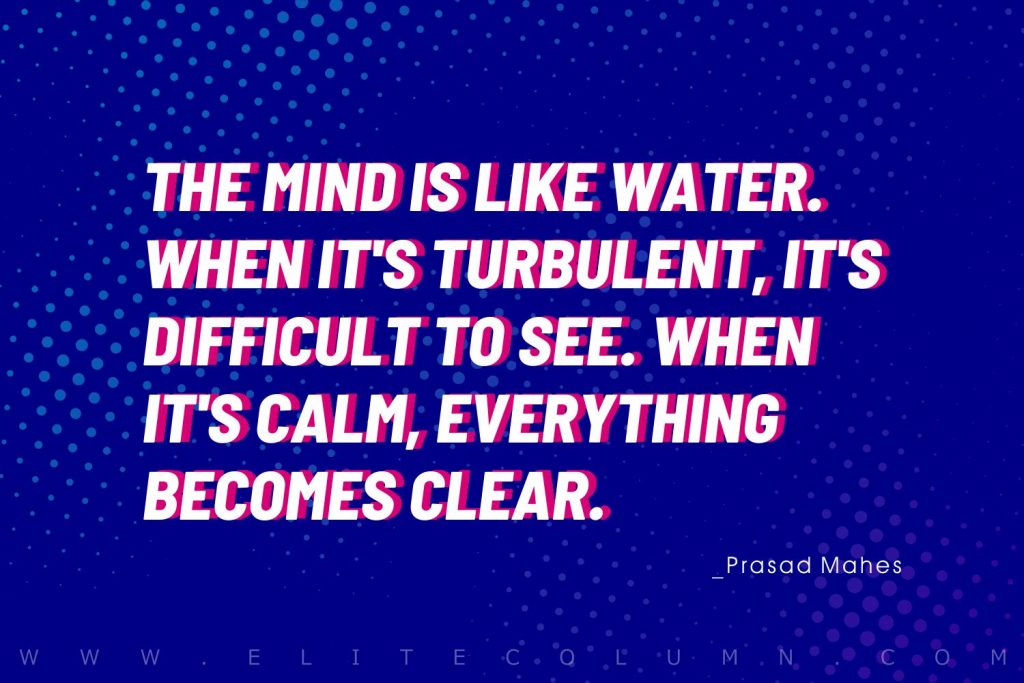 19. "The mind is like water. When it's turbulent, it's difficult to see. When it's calm, everything becomes clear." – Prasad Mahes
20. "Work, look for peace and calm in work: you will find it nowhere else." – Dmitri Mendeleev
21. "The only thing that could spoil a day was people. People were always the limiters of happiness except for the very few that were as good as spring itself." – Ernest Hemingway
22. "When you realize how perfect everything is you will tilt your head back and laugh at the sky." – Buddha
23. "Panic causes tunnel vision. Calm acceptance of danger allows us to more easily assess the situation and see the options." – Simon Sinek
24. "Never be in a hurry, do everything quietly and in a calm spirit. Do not lose your inner peace for anything whatsoever, even if your whole world seems upset" – Francis de Sales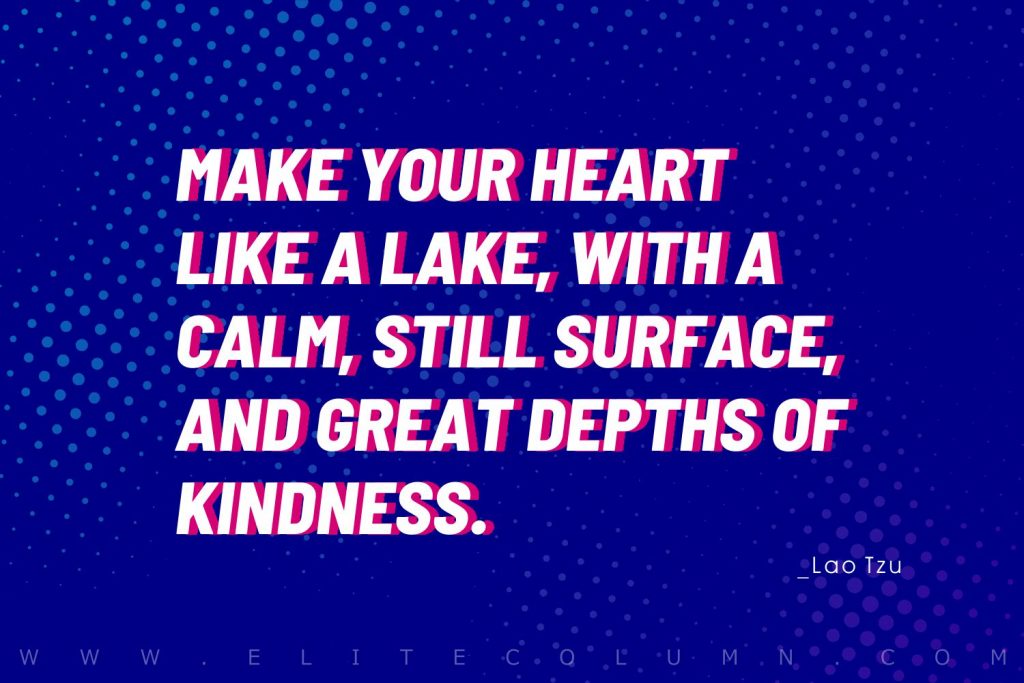 25. "Make your heart like a lake, with a calm, still surface, and great depths of kindness." – Lao Tzu
26. "Be patient, life will offer you another chance as soon as you find calm within, for abundance is born out of calmness." – Leon Brown
27. "The largest part of what we call 'personality' is determined by how we've opted to defend ourselves against anxiety and sadness." – Alain de Botton
28. "Keep calm and keep learning." – Lailah Gifty Akita
29. "I long for the countryside. That's where I get my calm and tranquillity from – being able to come and find a spot of green." – Emilia Clarke
30. "Set peace of mind as your highest goal, and organise your life around it" – Brian Tracy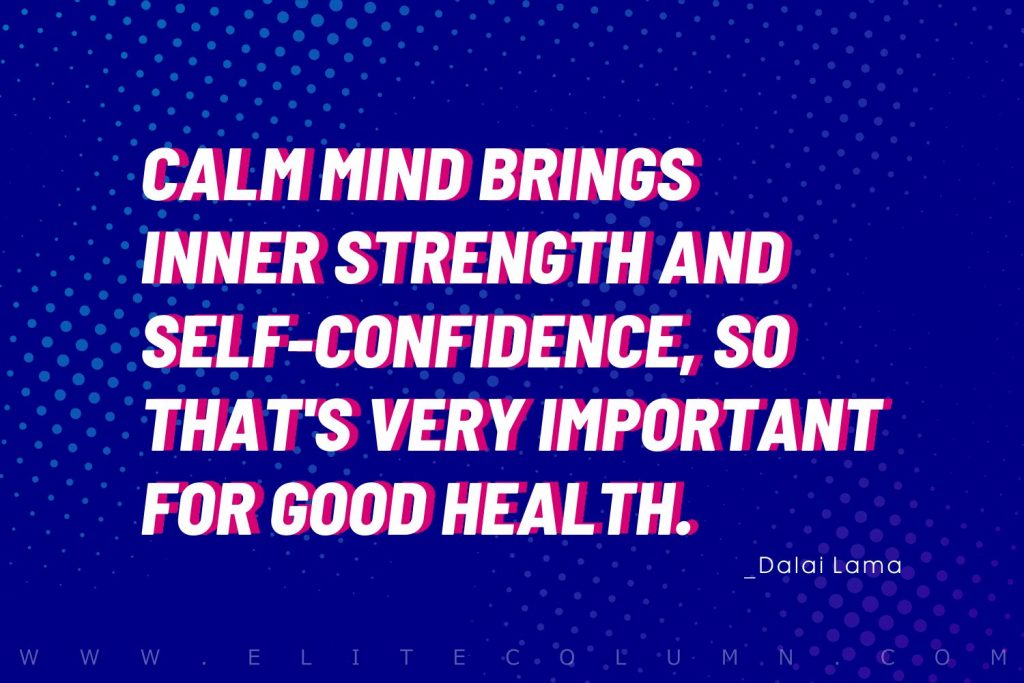 31. "Calm mind brings inner strength and self-confidence, so that's very important for good health." – Dalai Lama
32. "Vows made in storms are forgotten in calm" – Thomas Fuller
33. "If you trade your authenticity for safety, you may experience the following: anxiety, depression, eating disorders, addiction, rage, blame, resentment, and inexplicable grief." – Brene Brown
34. "Nothing is so aggravating than calmness." – Oscar Wilde
35. "The opposite of anger is not calmness, its empathy." – Mehmet Oz
36. "Patience is the calm acceptance that things can happen in a different order than the one you have in mind." – David G. Allen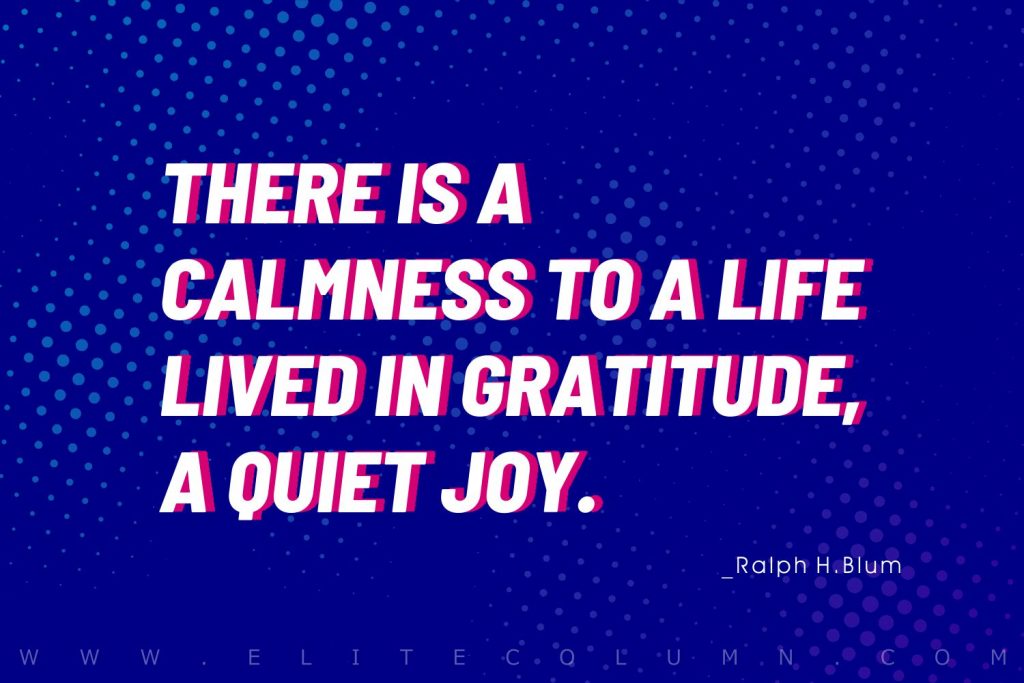 37. "There is a calmness to a life lived in gratitude, a quiet joy." – Ralph H. Blum
38. "Power is so characteristically calm, that calmness in itself has the aspect of strength." – Edward G. Bulwer-Lytton
39. "Patience is the calm acceptance that things can happen in a different order than the one you have in mind." – Martin Luther King Jr.
40. "The one who had the power to calm the elements of the earth has power to calm our souls." – Leon Brown
41. "The greater the level of calmness of our mind, the greater our peace of mind, the greater our ability to enjoy a happy and joyful life." – Dalai Lama
42. "There will be calmness, tranquillity when one is free from external objects and is not perturbed." – Bruce Lee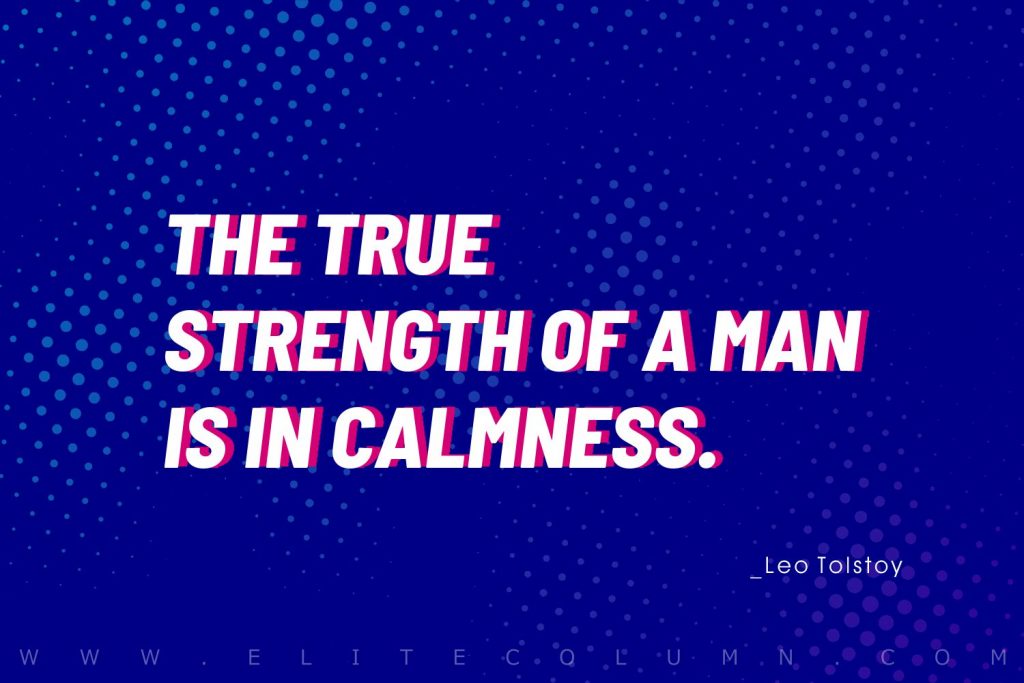 43. "The true strength of a man is in calmness." – Leo Tolstoy
44. "Learn to calm down the winds of your mind, and you will enjoy great inner peace." – Remez Sasson
45. "Anxiety's like a rocking chair. It gives you something to do, but it doesn't get you very far." – Jodi Picoult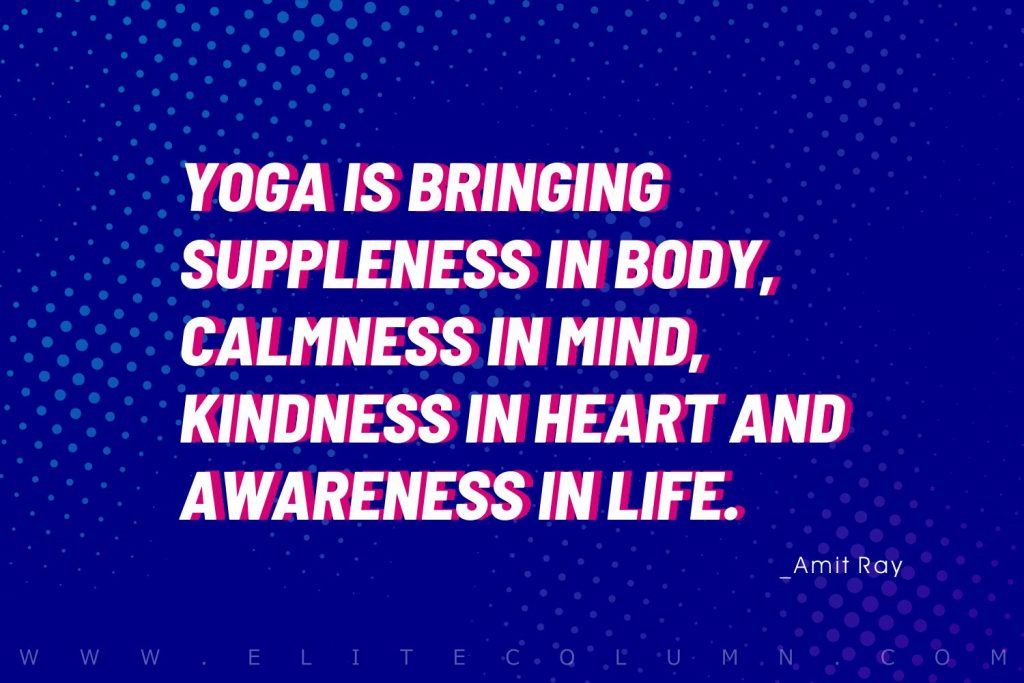 46. "Yoga is bringing suppleness in body, calmness in mind, kindness in heart and awareness in life." – Amit Ray
47. "In the woods, we return to reason and faith. There I feel that nothing can befall me in life no disgrace, no calamity, which nature cannot repair." – Ralph Waldo Emerson
48. "Whoever's calm and sensible is insane!" – Rumi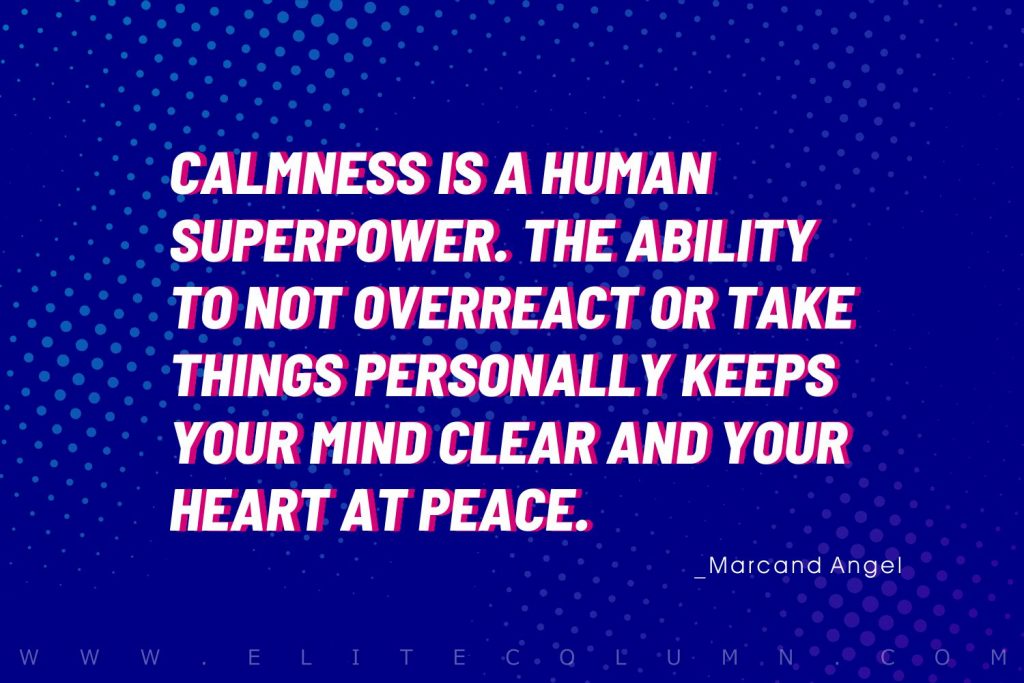 49. "Calmness is a human superpower. The ability to not overreact or take things personally keeps your mind clear and your heart at peace." – MarcandAngel
50. "Being relaxed, at peace with yourself, confident, emotionally neutral loose, and free-floating these are the keys to successful performance in almost everything" – Wayne W. Dyer
Thanks for checking out the best Calm Quotes. Feel free to share the quotes with your friends. Leave a comment below and which are your favourite Calm Quotes ?
See also:
Strong Quotes | Grief Quotes | Maturity Quotes | Meaningful Quotes | Responsibility Quotes | Faith Quotes | Serenity Quotes | Integrity Quotes | Self Esteem Quotes
You can find us at – Facebook | Instagram | LinkedIn | Pinterest | Twitter