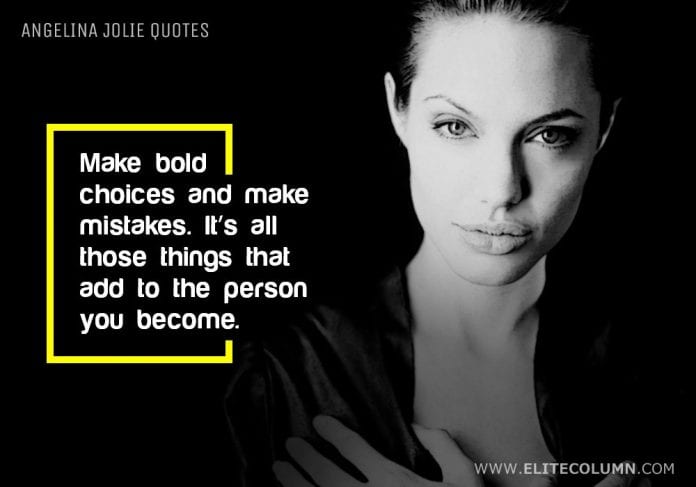 Angelina Jolie was born on June 4, 1975. She starred in the HBO biopic 'Gia' before earning a best supporting actress Academy Award for 'Girl, Interrupted'. She became one of Hollywood's marquee names, with starring roles in movies like 'Wanted', 'Mr. and Mrs. Smith', 'Salt' and 'Changeling'. She later had a huge international blockbuster with Disney's 'Maleficent', which spawned a sequel. Angelina Jolie quotes will inspire you to work towards your personal goal. EliteColumn brings you inspirational Angelina Jolie quotes.
22 Inspirational Angelina Jolie Quotes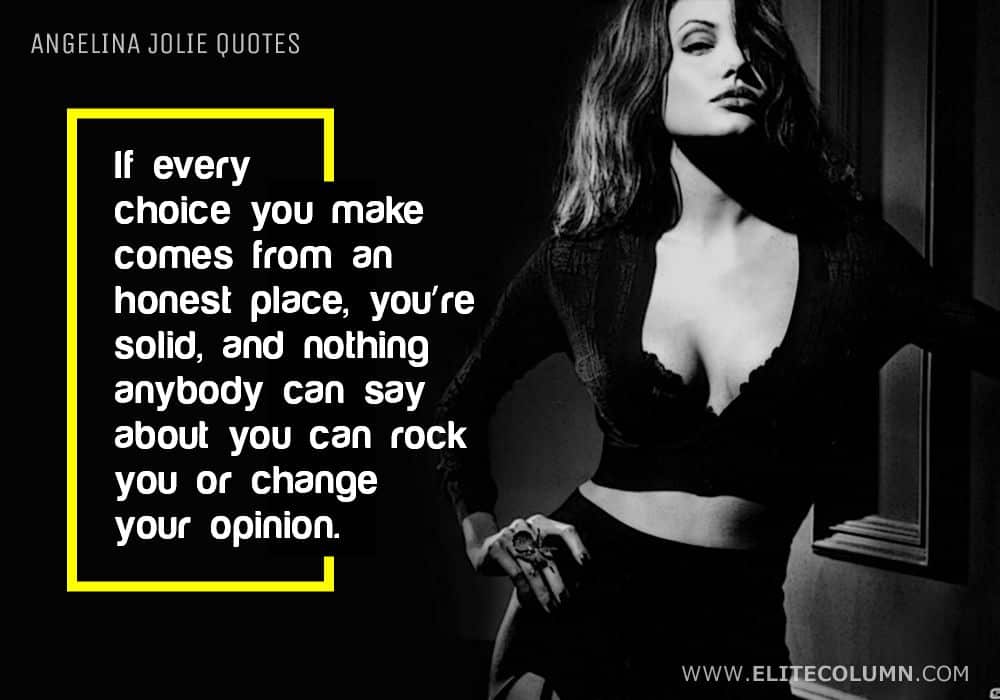 "If every choice you make comes from an honest place, you're solid, and nothing anybody can say about you can rock you or change your opinion." – Angelina Jolie
2. "I've realized that being happy is a choice. You never want to rub anybody the wrong way or not be fun to be around, but you have to be happy." – Angelina Jolie
3. "If I make a fool of myself, who cares? I'm not frightened by anyone perception of me." – Angelina Jolie
4. "People have two sides, a good side and a bad side, a past, a future. We must embrace both in someone we love." – Angelina Jolie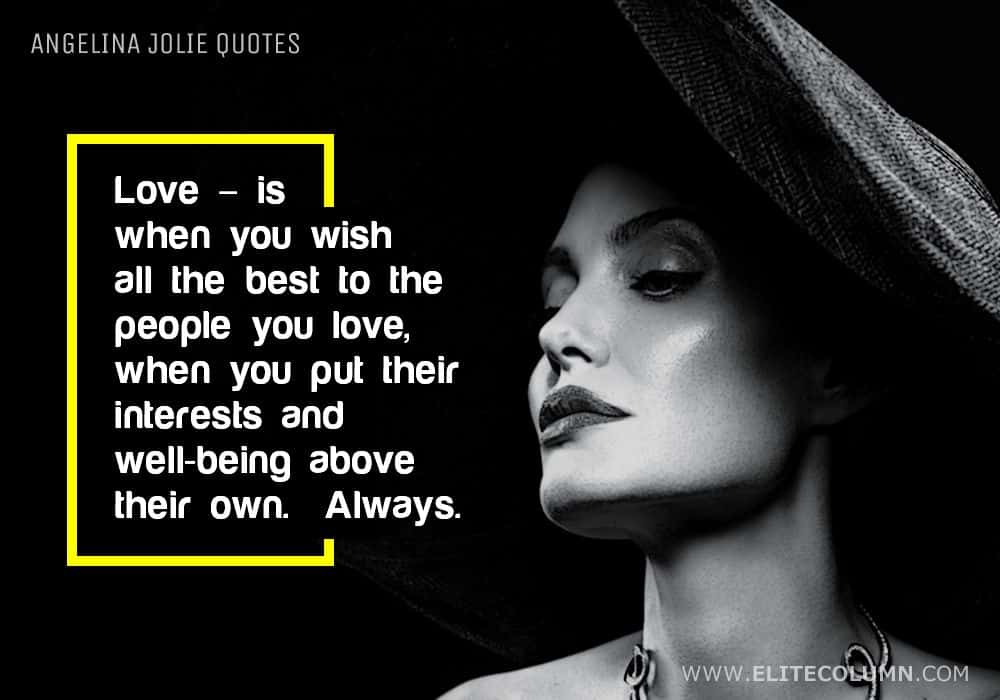 5. "Love – is when you wish all the best to the people you love, when you put their interests and well-being above their own." – Angelina Jolie
6. "We have a responsibility to be aware of others." – Angelina Jolie
7. "Different is good. When someone tells you that you are different, smile and hold you head up and be proud." – Angelina Jolie
8. "Be brave, be bold, be free." – Angelina Jolie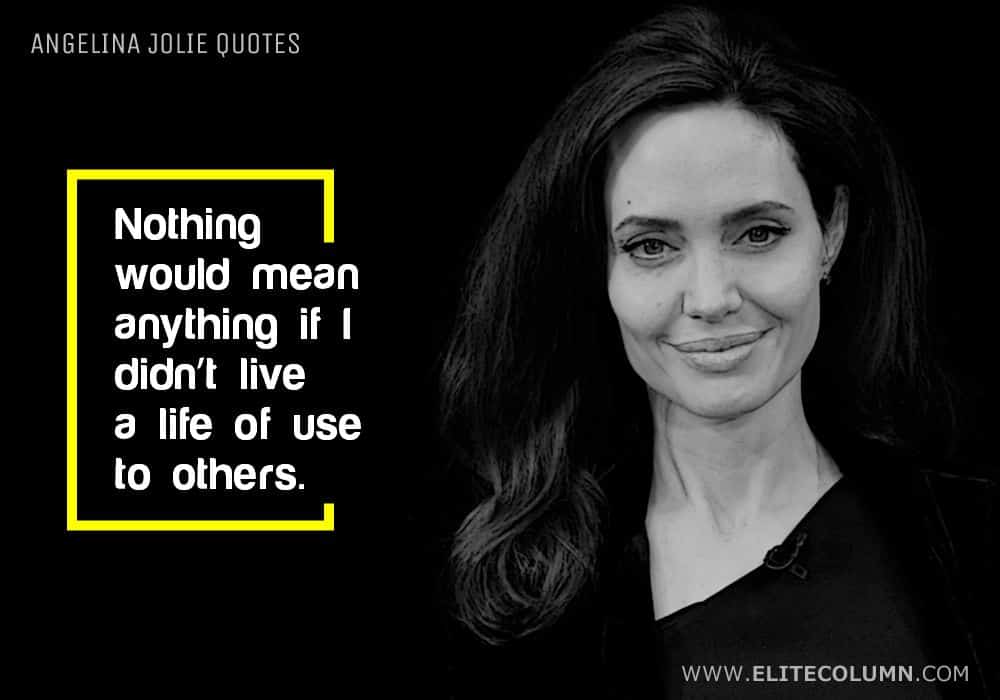 9. "Nothing would mean anything if I didn't live a life of use to others." – Angelina Jolie
10. "It is not where you start out in life that counts the most, it is how you choose to face it." – Angelina Jolie
11. "Everyday we choose who we are by how we define ourselves." – Angelina Jolie
12. "Life comes with many challenges. The ones that should not scare us are the ones we can take on and take control of." – Angelina Jolie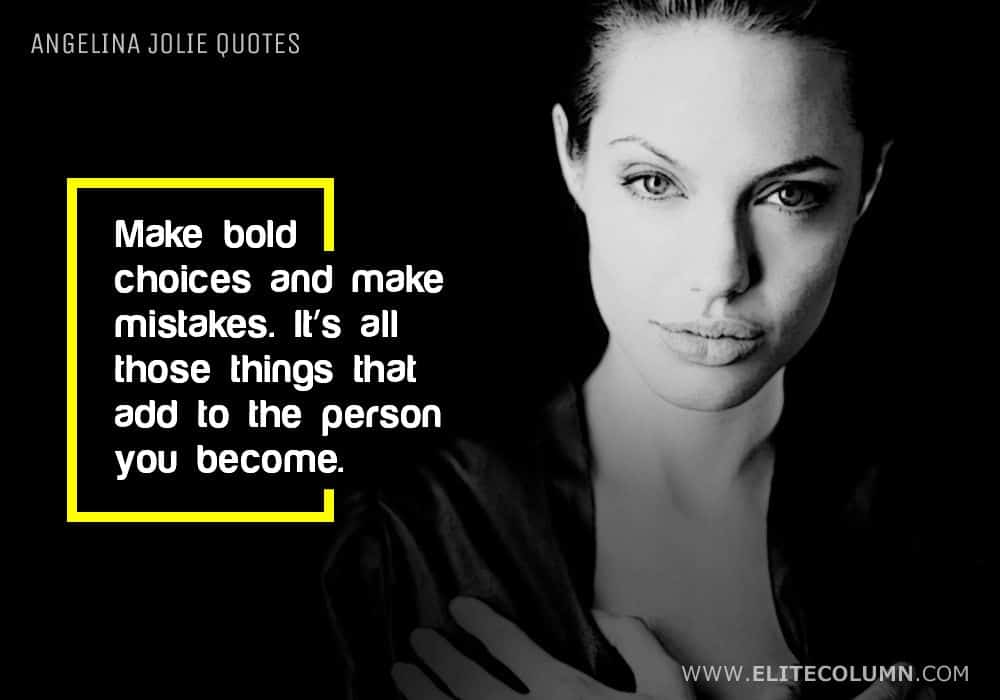 13. "Make bold choices and make mistakes. It's all those things that add to the person you become." – Angelina Jolie
14. "If I think more about death than some other people, it is probably because I love life more than they do." – Angelina Jolie
15. "I never felt settled or calm. You can't really commit to life when you feel that." – Angelina Jolie
16. "People say that you're going the wrong way when it's simply a way of your own." – Angelina Jolie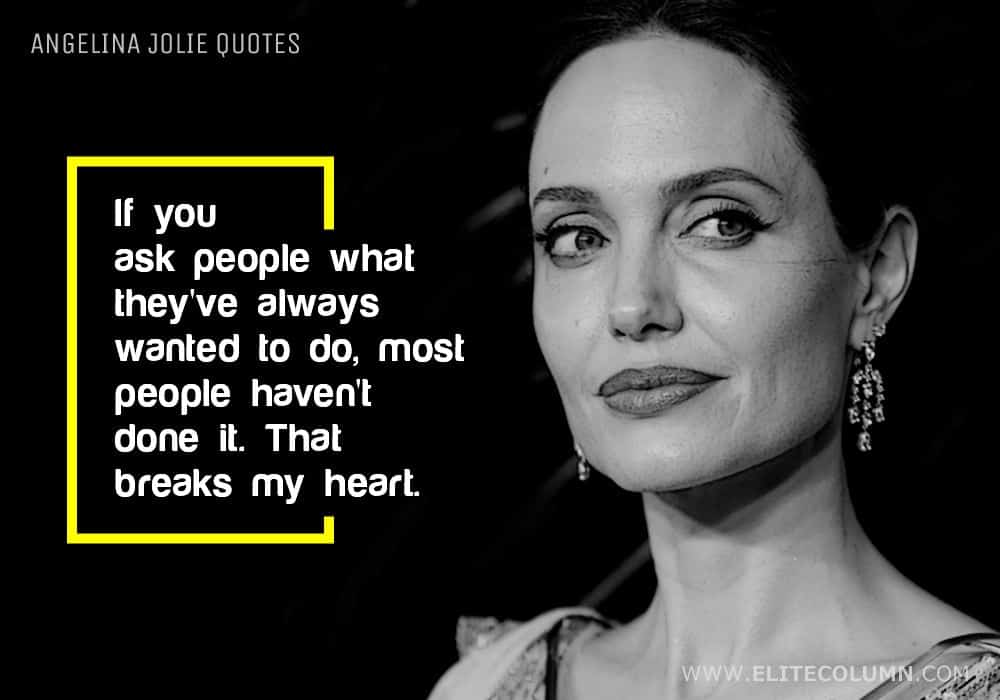 17. "If you ask people what they've always wanted to do, most people haven't done it. That breaks my heart." – Angelina Jolie
18. "It's better to have nobody, than to have someone who is half there, or doesn't want to be there." – Angelina Jolie
19. "If you don't get out of the box you've been raised in, you won't understand how much bigger the world is." – Angelina Jolie
20. "We come to love not by finding the perfect person, but by learning to see an imperfect person perfectly." – Angelina Jolie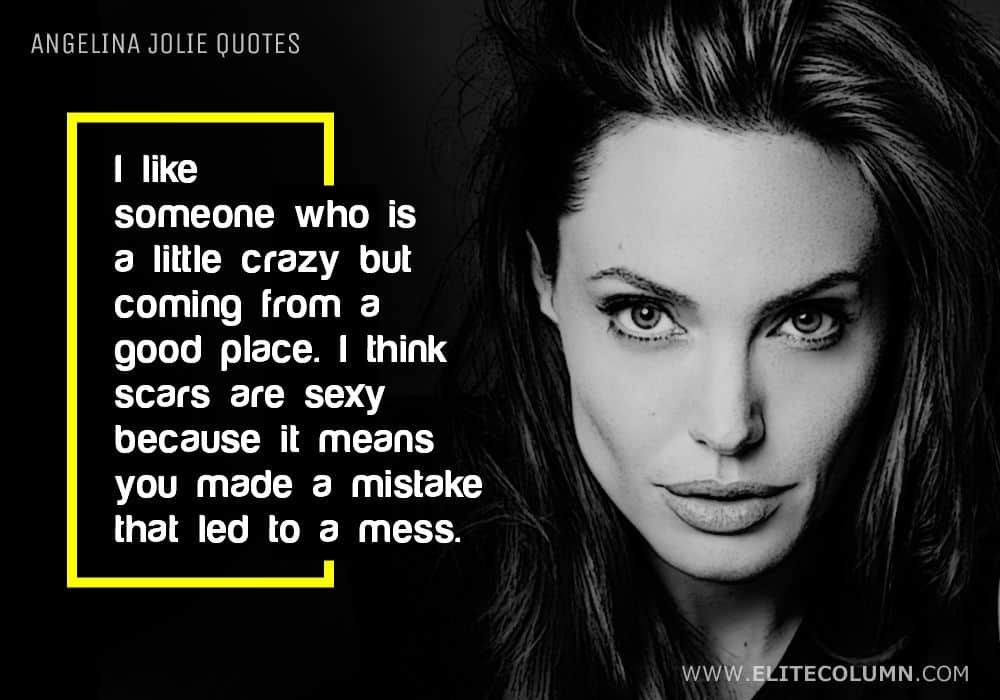 21. "I like someone who is a little crazy but coming from a good place. I think scars are sexy because it means you made a mistake that led to a mess." – Angelina Jolie
22. "Our diversity is our strength. What a dull and pointless life it would be if everyone was the same." – Angelina Jolie
Thanks for checking out the best Angelina Jolie quotes. Feel free to share the quotes with your friends. Leave a comment below and which are your favorite Angelina Jolie quotes ?
See also:
Rajinikanth Quotes | Jason Momoa Quotes | Johnny Depp Quotes | Liam Hemsworth Quotes | Al Pacino Quotes | Kamal Hassan Quotes | Paul Walker Quotes | Dwayne Johnson Quotes
You can find us at – Facebook | Instagram | LinkedIn | Pinterest | Twitter